13 Going On 30: 10 Best Outfits From The Romantic Comedy
2004's 13 Going on 30 is a fun romantic comedy that had a fantastic fashion sense, with these being the best outfits worn by Jennifer Garner and co.
The 2000s was a time of fun, comical, and rememberable rom-coms. 13 Going on 30 starring Jennifer Garner happens to be one that many have fond memories of. It was about a young girl who wished she was already "30 flirty and thriving" and she got it.
RELATED: 10 Rom-Coms That Will Make You Believe In Love Again, Ranked Least To Most Sappy
Besides the fun and chaotic storyline, the film displayed an interesting array of fashion choices of the early 2000s. Technology was just starting to take a turn, low rise jeans were still popular, and odd color combos were too. If there's one thing to remember from the film, it is its funky wardrobe choices. Let's take a look at which outfits bring back memories and make the list as the best of all.
10

The Rose Corset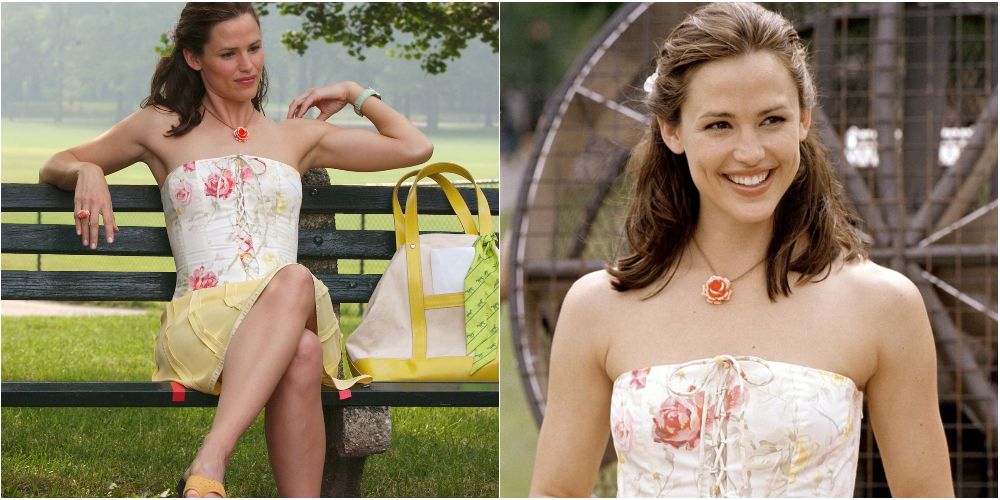 Towards the end of the film, Jenna Rink (Garner) takes a chance at a new direction for Poise magazine. With the help of her childhood friend Matt (Mark Ruffalo), they shoot a high school reunion/yearbook spread. What catches people's attention is  Jenna's outfit.
It's light, sweet, and encompasses spring in New York City. It wouldn't be a surprise if you see the same style corset top Jenna wore roaming the city streets. The rose print corset paired nicely with the knee-length pale yellow pleated skirt.
9

Baby Pink Ensemble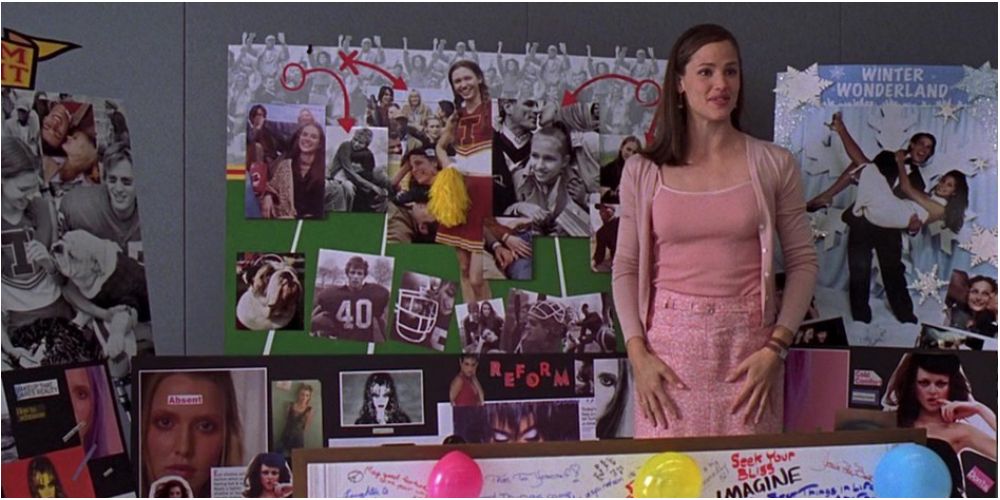 It's easily agreeable that Jennifer Garner looks good in any pink toned outfit, including the one she wore to pitch her yearbook idea in 13 Going on 30. The style was very 2000s casual working women. Jenna still looked carefree but with a touch of elegance and poise.
It's easy to recreate with a baby pink cardigan, a pink and white dotted skirt, and a pink tank top. The sleeked back hair behind the ears added a simple touch. The outfit fit Jenna's new adult persona to a T.
8

Lucy's Striped Suit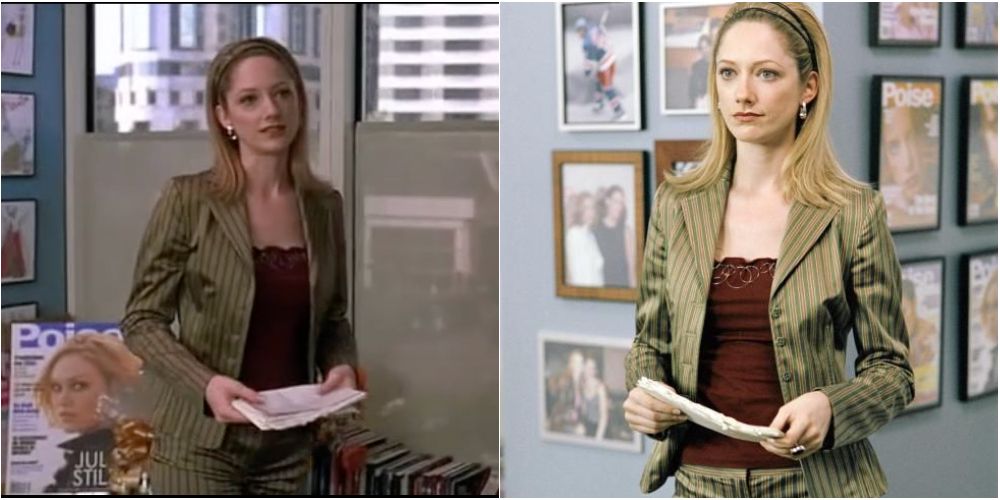 Even though Lucy (Judy Greer) proved to be a vile character later on in the film, she did have one decent outfit. Surprisingly, the outfit portrayed her character well at the moment. She lies to Matt about Jenna deciding to go in a new direction and not use his photos. Lucy felt betrayed by Jenna and decides to get revenge.
Lucy's true colors show through, which goes surprisingly well with her outfit choice. A tailored striped suit in dark green with a dark maroon tank top, it reflected her decision to go for a powerplay and venomous snake attack.
7

Jenna's Floral Dress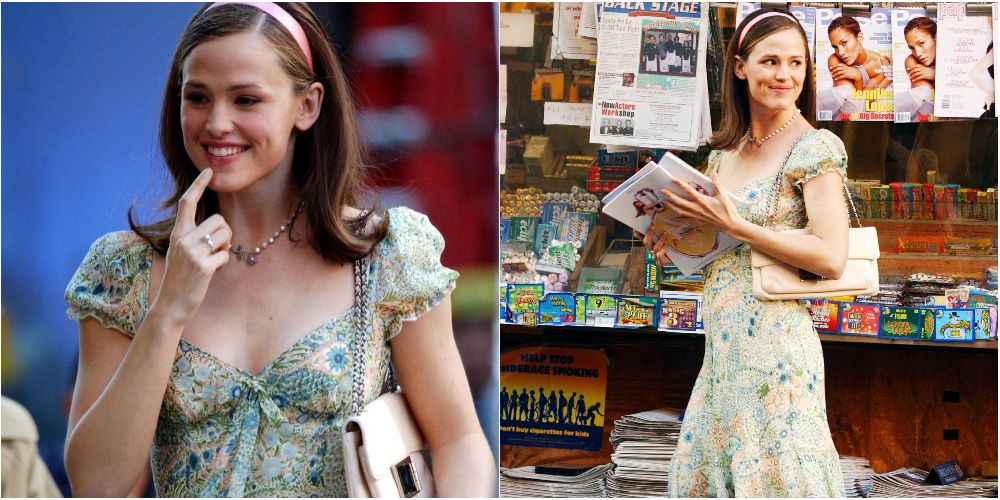 Jenna leans into her feelings for Matt, despite knowing he is already engaged to another woman. When the magazine approves Jenna's new magazine spread, she is over the moon. She changes into a heavily patterned light chiffon dress.
RELATED: The Vampire Diaries: Caroline's 5 Best Outfits (& 5 Worst)
The dress can be described as "sweet" with its short puff sleeves and sweetheart neckline. The addition of the pink ribbon as a headband and pearl necklace made the outfit look innocent and cute. Sadly moments later, the pouring rain drenches Jenna by the time she comes face to face with Matt's fiancé.
6

13th Birthday Party Outfit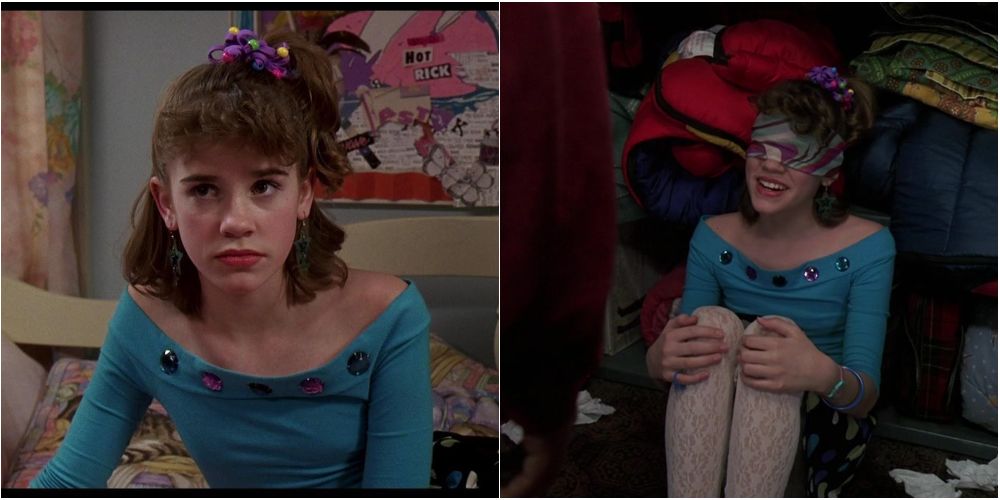 Despite the '80s having questionable fashion, you can't help but reminisce over Jenna's outfit for her 13th birthday party. Bright neon colors and gemstones were a huge part of any clothing item, and Jenna goes all out in an off-the-shoulder aqua blue top with huge rhinestones on the collar.
Jenna pairs it with a black skirt with matching blue, green, and purple circles. What made the outfit truly unforgettable was pairing the look with white lace tights. The puffy bangs and half-up ponytail were just the cherries on top.
5

Night Out In The City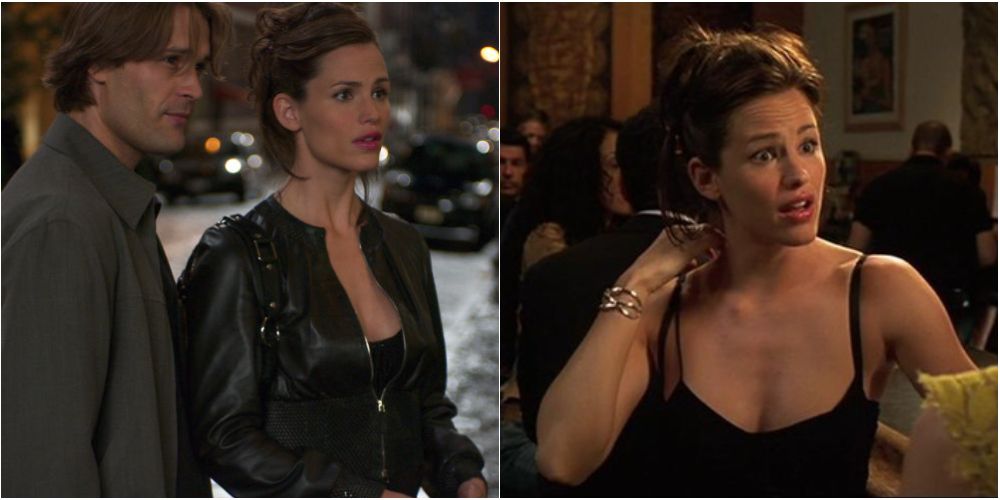 When Jenna tries to get used to her new life as an adult, Lucy takes her out to a local bar. Fans probably remember the comical scene when Jenna tries to ask out a 13-year-old boy. The ensemble Jenna wears is something worth talking about. It's one of the rare occasions audiences see Jenna in anything black, and it seems appropriate when having drinks.
Jenna wears a flowing black dress that ties up down the middle of the chest. Later on outside the bar, she pairs it with a cropped biker jacket to give the look an edge. Of course, she has to have a matching leather bag.
4

Lucy's Mermaid Dress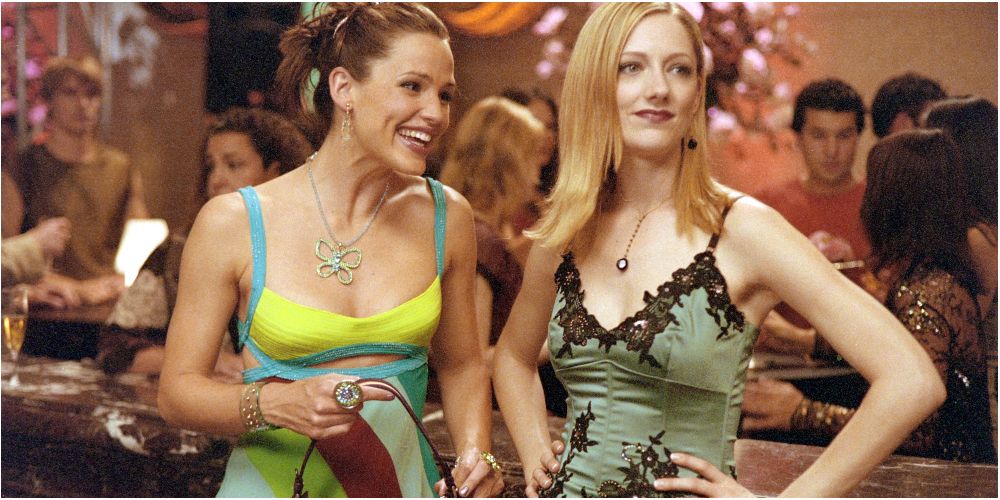 It's time for Jenna to dress up and raid her extensive walk-in closet. While her outfit is something to talk about, let's focus on Lucy's ensemble choice. Their boss, Richard Kneeland (Andy Serkis), describes her look like a "dangerous mermaid." Which is spot on.
Lucy's outfit is the exact opposite of Jenna's colorful one. The two-piece ensemble is a dark seafoam green color with black lace trim at the collar and the skirt hem. Lucy did look like an evil sea queen, which later proves to be true to some extent.
3

Leather & Chopsticks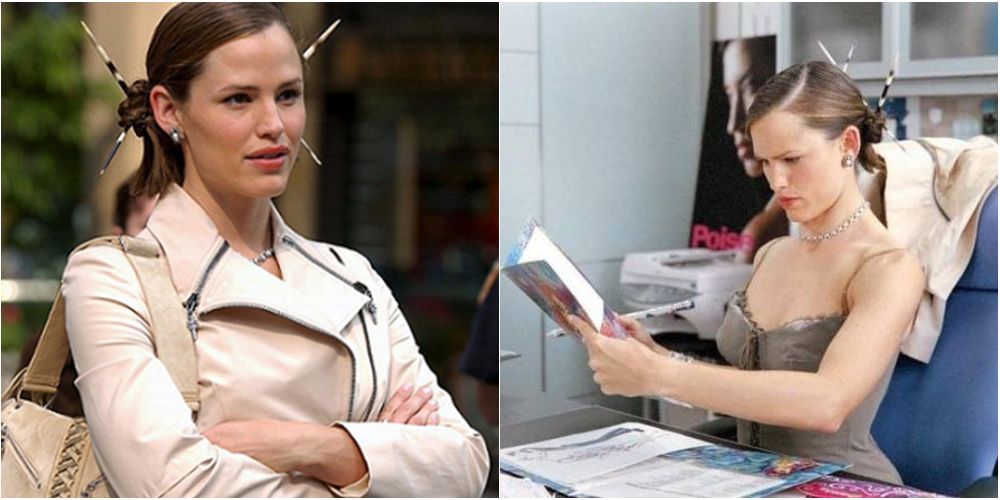 One of Jenna's best outfits is when she has some fun with her hair accessories. She adorned her small hair buns with black and beige colored sticks. It adds a unique edge to her look. In an office scene, audiences see her look in more detail as she wears a corset-like top with matching trousers with metal details.
RELATED: Gilmore Girls: Rory's 5 Best Outfits (& 5 Worst)
To offset the grey-green tones of her outfit, Jenna paired it with a beige biker jacket and a matching purse everyone wished they owned. This is easily one of Jenna's best outfits and it still works in 2020.
2

Slip Dress And Coat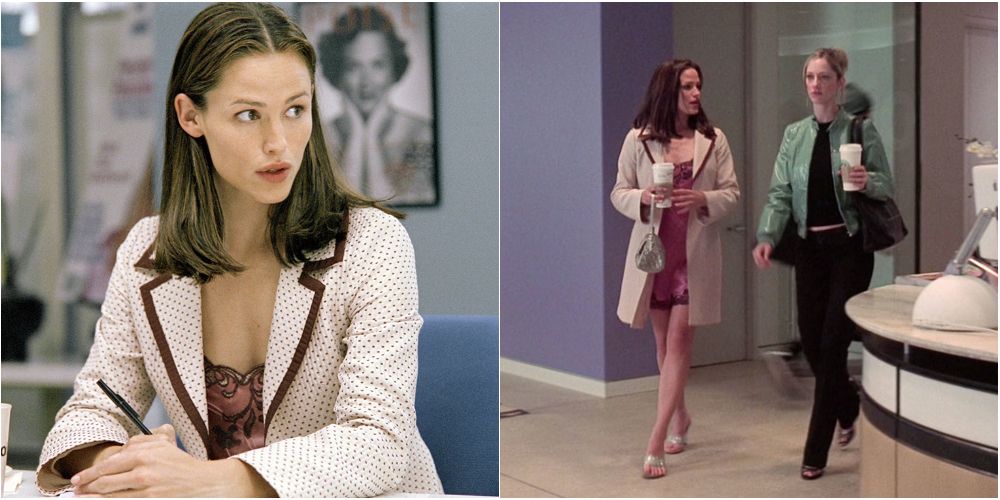 Waking up in a 30-year-old body when you were just in a closet as a 13-year-old must be scary. Jenna wakes up in her bed in an apartment she doesn't recognize. She becomes so freaked out by her surroundings she leaves in just her nightgown, a coat, and some heeled sandals.
The outfit becomes the second most popular ensemble in the film. Lucy even comments her on it and likes it. Surprisingly enough, Jenna's look becomes a trend years later. Buying slip dresses from Victoria's Secret has now become the perfect nighttime or daytime outfit.
1

Rainbow Party Dress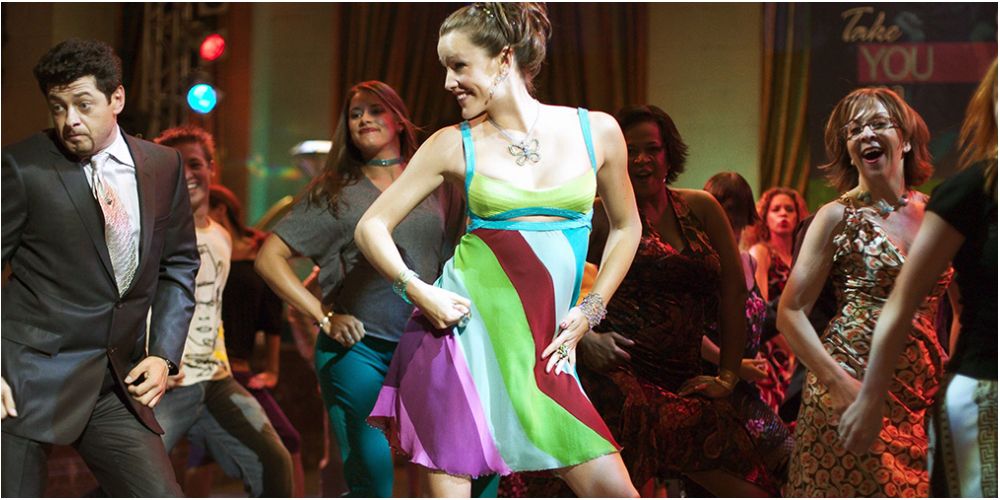 Taking the number one spot as the most memorable look is Jenna's party dress. "Poise" has to beat its competitor and what better way than by having a party. Jenna has some fun looking through her designer closet and stumbles upon a rainbow flowing mini dress. It's fun, flirty, and eye-catching.
The giant rhinestoned butterfly necklace played a nice homage to Jenna's younger years. Fans can't forget Jenna's iconic dance to Michael Jackson's "Thriller" that gets everyone at the party on their feet. During the scene when 13-year-old Jenna is blindfolded in the closet, the blindfold has the same colors as the party dress.