Animal Crossing: New Horizons – Custom Codes for Star Wars Clothes
New custom Star Wars clothes are now available for Animal Crossing: New Horizons which now gives a whole new outlook on how to mold avatars.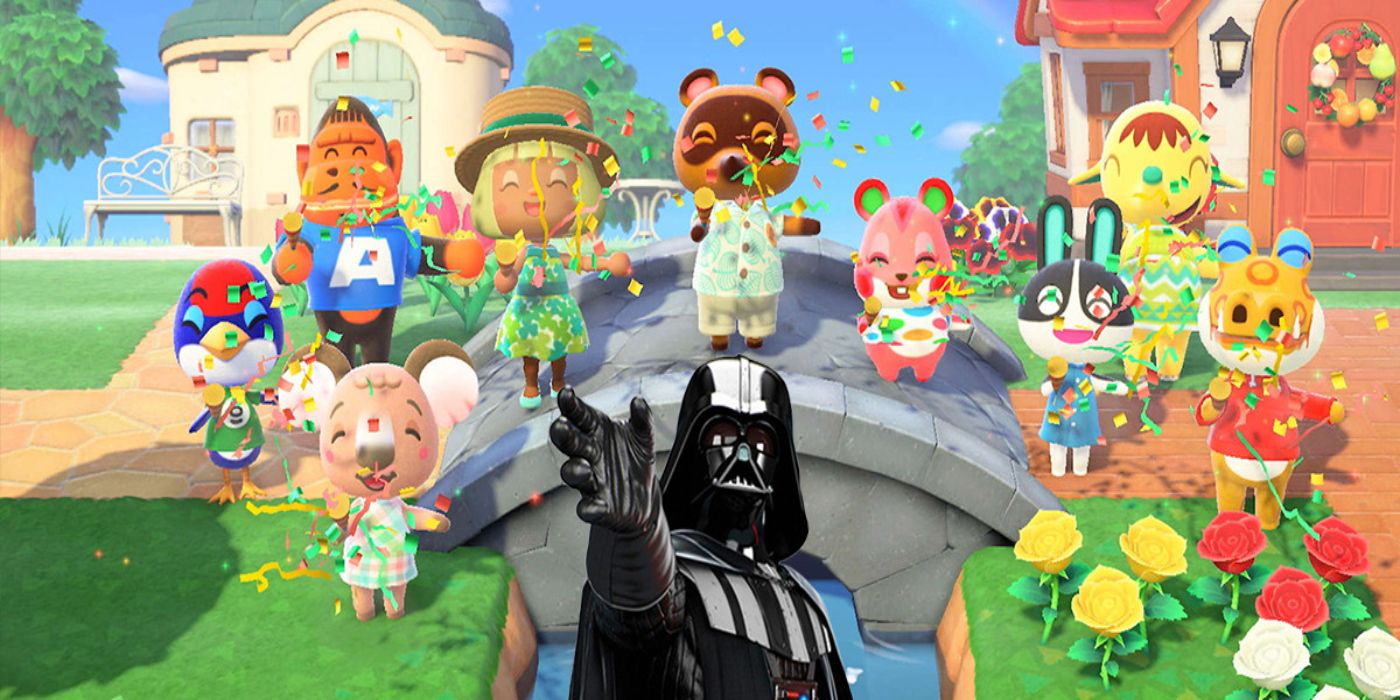 Animal Crossing: New Horizons now has Star Wars clothing customization available. There is only a specific way to get them and this guide will help players get a hold of their new intergalactic threads.
Animal Crossing: New Horizons is a farming simulation game released on March 20, 2020, by Nintendo in which players create their own islands to share with the world. The story consists of being an owner of a deserted island that players purchased from Tom Nook, who is a "tanuki" character in the series that oversees development. In a complete open-ended fashion, players can explore and commence planning out their ideal tropical settlement any way they best see fit. Complete with wildlife, bridges, waterfalls, and botany, players can terraform their island as far as their imagination allows them to. This even consists of decorating the landscape and interiors of the shelters.
Related: Animal Crossing: New Horizons Islands To Inspire Your Creativity 
With that said, there is also a slew of customization options that correspond with everything including how the avatars are dressed and how the island operates. Even though players will create their own character at the very beginning of the game, there will be times to "freshen things up" a bit. Everything from growing new flowers, buying new materials to even raising new animals, the very purpose of Animal Crossing: New Horizons is to; grow, evolve, and change. Therefore, new clothing options tend to be updated on a regular basis and there's a very particular process that players need to follow to get a hold of them. Right now, there is Star Wars swag available and every type of wardrobe from all the trilogies of the franchise can now be unlocked.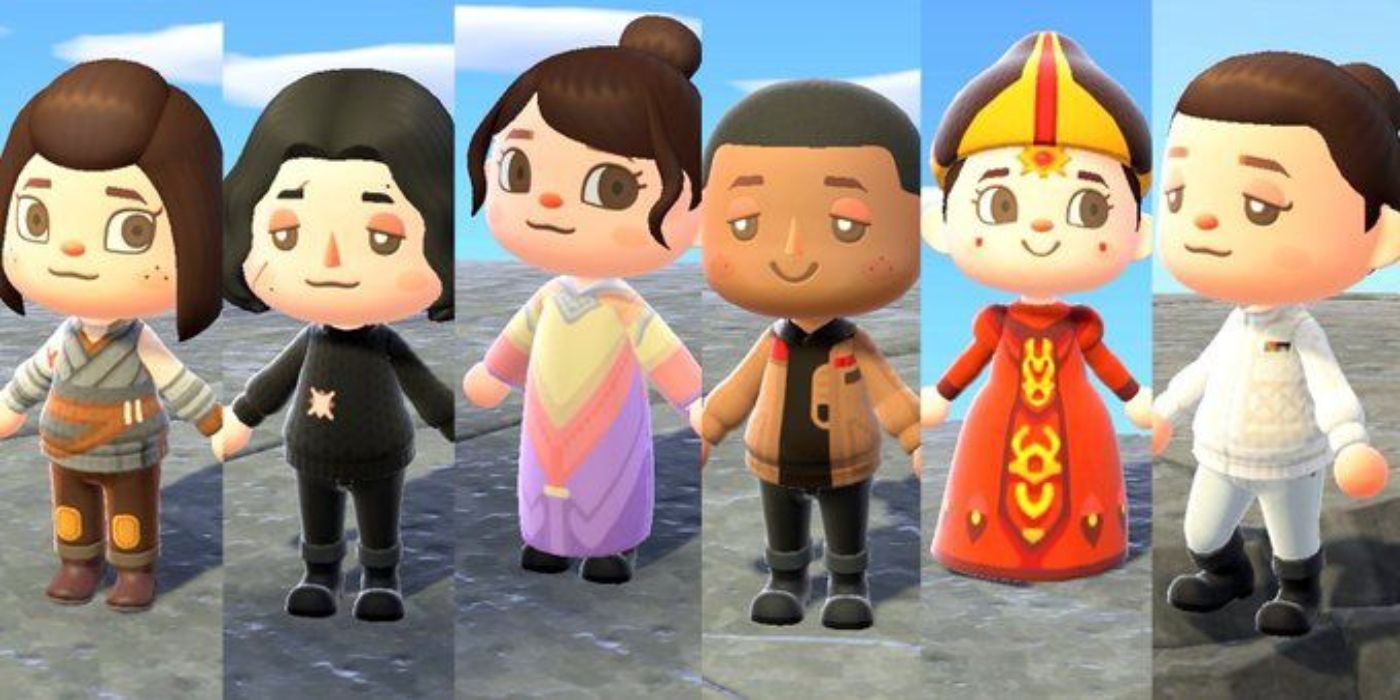 Animal Crossing: New Horizons is well-versed in putting in custom designs inspired by other television shows and movies by the implementation of QR codes. With a cell phone, there are two ways to get codes for the current Star Wars clothing selection. Either scan the QR codes using the "Nook Link" or just simply enter the code at the "Able Sister's Shop". All these costumes were made within Animal Crossing: New Horizons, so they'll look sharp upon download, so there should be no concern about losing fidelity. The following is a list of the QR codes players can enter to get the all the Star Wars threads they desire. Everything from Han Solo to the Bounty Hunter Boosk, there's a colorful selection to choose from.
Padme Bunhead Dress > MO-Y5H2-B790-WQ14
Padme Green Dress > MO-P3NO-5Y80-XPH7
Padme Lake Dress > MO-QFGB-SYDH-JWL6
Padme Queen Robe > MO-XT3Y-GVLM-YKY8
Padme Tatooine Robe > MO-GD16-Y1VF-670P
Amidala Orange Dress > MO-MHWY-DFTV-YFCM
Naboo Handmaiden Dress > MO-PX9K-VD2S-2NKB
Padme Mustafar Garb > MO-DGWF-SJ9M-R6DP
Amidala Silver Robe > MO-7KKL-WXRT-17TC
Anakin Jedi Robe (Episode. III) > MO-N101-MKB4-6D6D
Ben Solo Sweater > MO-H2J6-6TWC-M581
Kylo Ren Coat (Episode. VII) > MO-JWTL-1PPK-JBYJ
"Swolo" Tank Top > MO-RT9S-BCDD-363J
Han Solo Coat (Episode. IV) > MO-MJG8-SHSN-9072
Leia Bespin Coat > MO-KYQY-8JP2-Q60X
Leia Hoth Sweater > MO-YTG4-R80H-8SG9
Leia Hoth Hoodie > MO-HN4J-JWTL-JMRH
Princess Leia Robe > MO-WH18-HS0L-P52S
Leia Ceremony Robe > MO-8HLT-26P9-PPT6
Luke's Robe (Episode. VIII) > MO-P7VF-8B3Y-TMCL
Jyn Erso > MO-YYSL-2KSV-KF47
Rose > MO-PS91-J0NM-G552
Rebel Suit Coat (X-Wing Pilot) > MO-VQ78-WB3L-HRFR
Rebet Suit Sweater (X-Wing Pilot) > MO-534S-42MW-HSK4
Storm Pilot Hoodie (Finn's Jacket) > MO-NS28-QL4X-5R4V
Obi-Wan Coat > MO-DQX3-SND5-P8QG
Hux Greatcoat > MO-WY09-2WT2-RD64
Porg Hat (Brimmed Hat)> MO-XCF4-CHMR-DS7G
Porg Sweater > MO-5X39-H998-GWBX
Rey TLJ Coat (Alt) > MO-FYB9-X0RG-MWTR
Rey TLF Sweater > MO-NQ9N-3RP3-Y5YR
Rey TROS Hoodie > MO-DR4K-GGH3-7CH6
Rey Jedi Training Vest Sweater > MO-T38V-NPSF-RT1Q
Boosk Hoodie > MO-D2VM-7BK6-WFTX
Jedi Robe (Tunique) > MO-PJ15-LTDS-XC4T
As fans of Animal Crossing: New Horizons can see, about every angle regarding Star Wars clothing has been conjured up. Surely, there's enough to choose from that'll make fans of both franchises happy. Terraforming as taken a whole meaning with this galactic set of customary garb and there's a new type of fun to be had. Let's see what happens next that'll introduce a new layer of productivity for all the islands out there. Perhaps, there will some new surprises yet to be unveiled.
More: Animal Crossing New Horizons: How To Make Custom Clothing 
Animal Crossing: New Horizons is now available on Nintendo Switch