Arrowverse's Crisis on Earth-X Crossover Cut A Trump-Nazi Joke
Arrowverse producer Marc Guggenheim reveals a Crisis on Earth-X script page featuring a Trump-Nazi joke cut from the 2017 crossover event.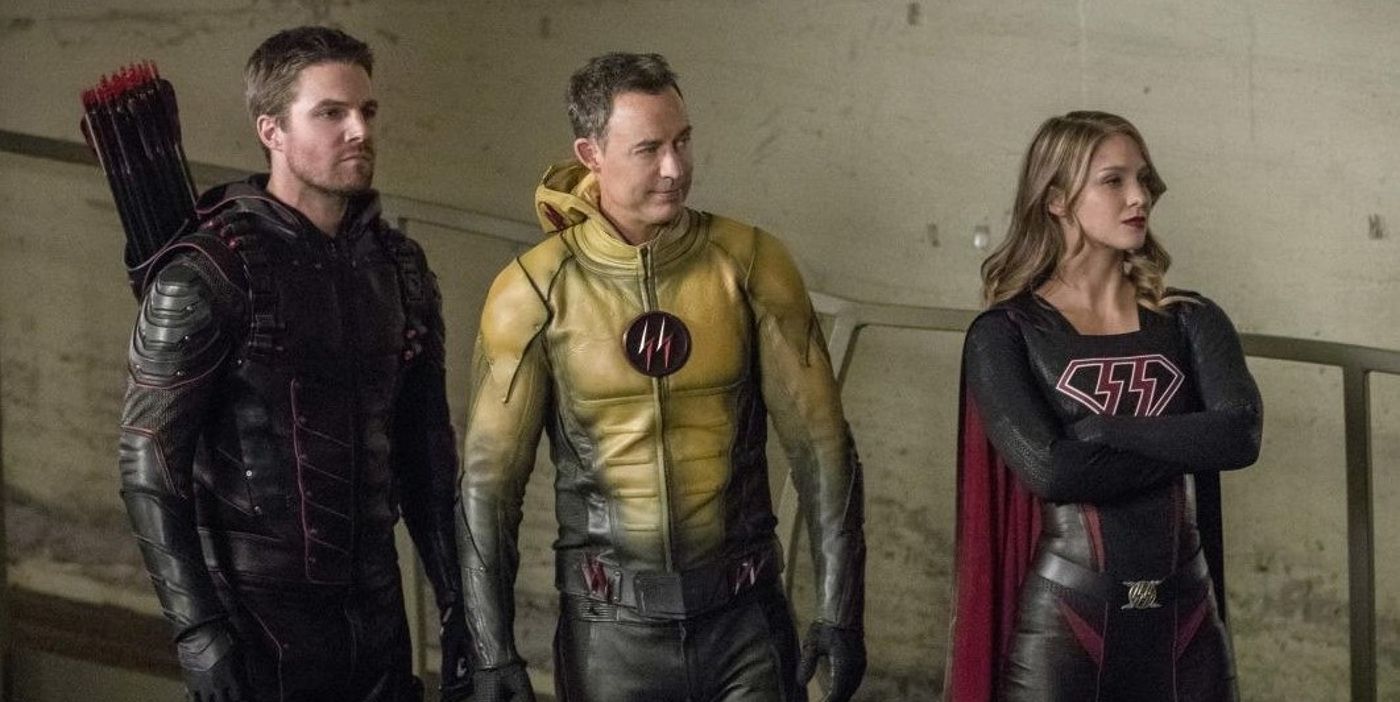 The Arrowverse's Crisis on Earth-X crossover almost featured a joke referencing Trump and Nazis. Crossovers are a long-standing tradition in the Arrowverse and have gradually increased in size as the franchise has added more shows. The very first crossover, Flash vs. Arrow, only featured those two shows. In contrast, the most recent crossover, Crisis on Infinite Earths, involved all six DC shows airing on The CW at the time, as well as several other DC properties. It also could be the last crossover featuring the characters of flagship series Arrow, which ended its run earlier this year.
Crisis on Earth-X aired in 2017 and was a four-part crossover with Arrow, Supergirl, Legends of Tomorrow, and The Flash. In it, the characters attend Iris and Barry's wedding, only for it to be attacked by villains from Earth-X. On this parallel Earth, Nazis are in charge, while Oliver and Kara's doppelgangers are the evil Dark Arrow and Overgirl. The team also deals with Prometheus, who on Earth-X is Oliver's dead friend Tommy Merlyn, as well as Barry's nemesis Eobard Thawne from Earth-1.
Related: The Best Moments of Crisis on Earth-X
During a key moment in Crisis on Earth-X, the characters come face-to-face with the evil versions of themselves. Recently, Arrowverse producer Marc Guggenheim shared a script page from that scene featuring a cut reference to Trump and Nazis. In it, Barry questions Thawne about why he's joined forces with the Earth-X villains, with Thawne replying, "Nazis, you mean? Don't judge. Some of them are very fine people." This is a reference to Trump's infamous comments following the 2017 rally in Charlottesville, made just a few months before the crossover aired.
Following the massive Crisis on Infinite Earths crossover, the Arrowverse's next event will be much smaller for several reasons. One, it will be nearly impossible for The CW to top the scope of Crisis on Infinite Earths. There's also the added complication of the coronavirus delaying the start of the Arrowverse shows next season. It was recently announced that all of the Arrowverse series will be held until January 2021, with Legends of Tomorrow and Supergirl premiering even later. CW CEO Mark Pedowitz also revealed the next event will be a two-part crossover with Batwoman and new show Superman and Lois. If the event happens as planned, it will also feature a brand-new Batwoman, as lead actress Ruby Rose announced her exit from the series this week.
Considering the sheer size of the Arrowverse crossovers, including Crisis on Earth-X, it makes sense some jokes land on the cutting room floor. That's also just the nature of television; scenes are tweaked until the very end of post-production. The timeliness of the Trump-Nazi joke is impressive, and it's hard to know for sure why it was cut. It's clear from Guggenheim's caption he "was very fond" of it, and audiences likely would have appreciated it, too. Guggenheim has shared script pages like this one throughout quarantine, so at least Arrowverse fans know there are more ahead.
More: Crisis on Earth-X Was Better Than Justice League
Source: Marc Guggenheim