Fantastic Four Meet The TRUE Creator of Marvel's Universe
The Fantastic Four have been on incredible adventures, but none will ever be greater than they time they met the creator of Marvel's Universe.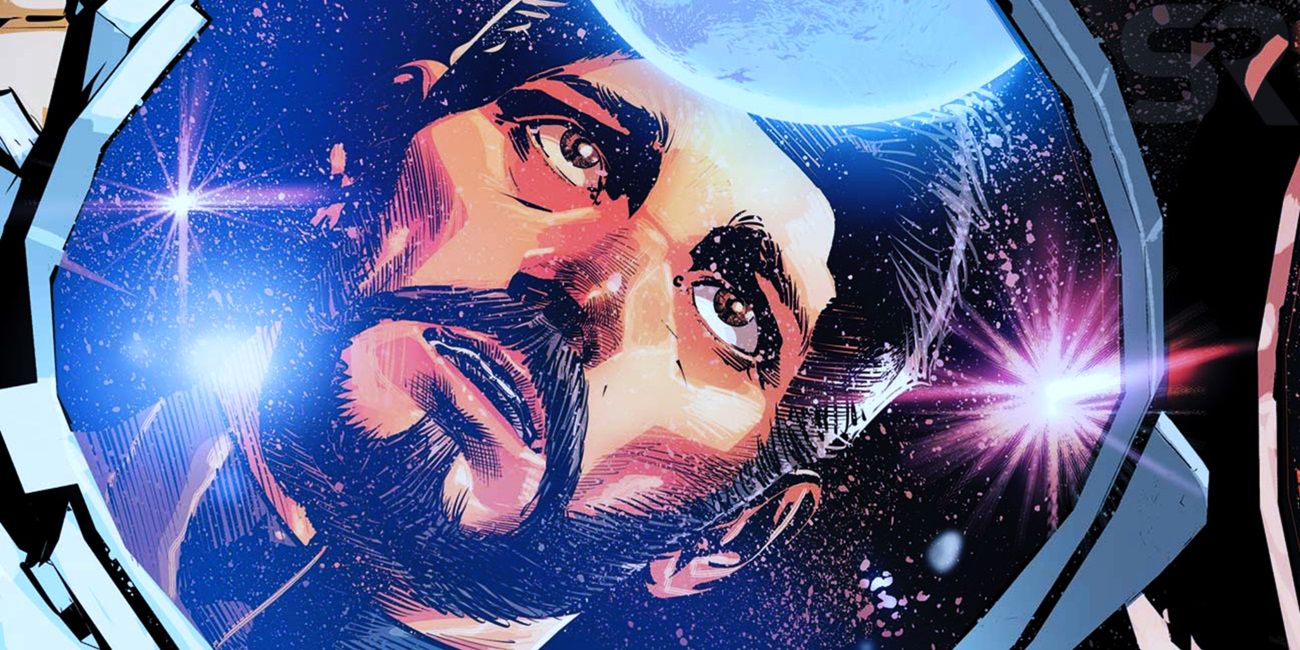 The Fantastic Four have had a long career as a superhero team, going on countless adventures, but none more interesting than when they met Jack Kirby, their creator. The Fantastic Four were co-created by Stan Lee and Kirby in 1961, which started the Resurgence of superhero comics at Marvel Comics. Kirby was involved with Marvel Comics as far back as the 1940s, when the company was called "Timely Comics," and co-created Captain America with writer Joe Simon. Kirby was also involved in the co-creation of many Silver Age Marvel Heroes in the 1960s, such as Marvel's Thor, The Incredible Hulk, and the X-Men, but his tenure on the Fantastic Four was arguably the longest, having worked on 102 issues with Stan.
Eventually, Kirby left Marvel Comics and worked for DC, creating many memorable heroes and concepts including the New Gods and Darkseid, a concept that Kirby originally envisioned for Marvel Comics and Thor. Kirby would return to Marvel, and later began to work on his creator-owned comics. Though Kirby passed away in 1994, his legacy and impact on comic books would not be forgotten. Though there have been many tributes to Kirby over the years, one of the greatest was during one of the Fantastic Four's more somber adventures.
Related: Mark Waid Returns to FANTASTIC FOUR With Artist Neal Adams
In Fantastic Four #511, after their most recent battle against Doctor Doom, Ben Grimm, The Thing, had been killed in battle, leaving the Fantastic Four distraught and separated. While grieving the loss of his best friend, Reed Richards develops a machine based off of Doom's older designs, specifically the machine that scarred Victor Von Doom's face forever. Doom's machine was originally intended to find his mother's soul in the afterlife, and Reed decided to refine the machine in order to allow him to access the afterlife and rescue Ben. Reed had hooked Ben up to a life-support machine and found that there were faint brain waves coming from Ben, meaning that a small part of him was "still alive," and that all the team had to do was "rescue him" from the afterlife. Though Sue Storm, the Invisible Woman, is initially hesitant, Johnny Storm, the Human Torch, decides to join Reed on his adventure, prompting Sue to join Reed as well.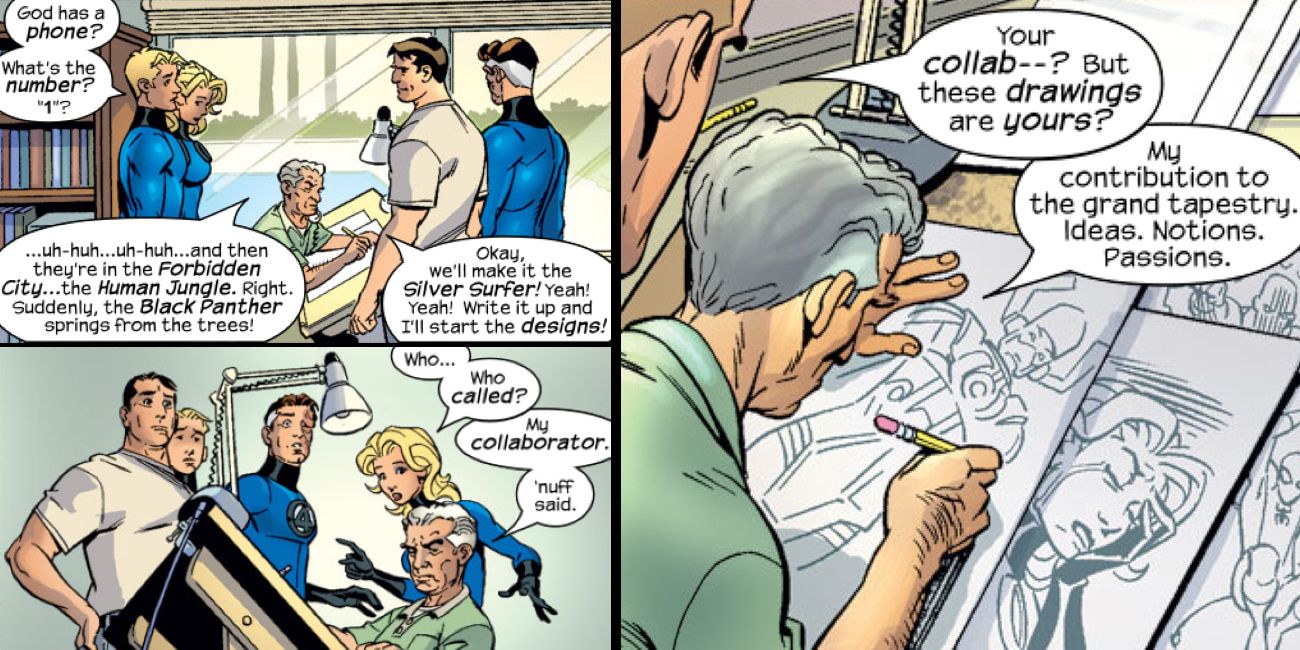 However, upon entering the afterlife, they encounter many conflicts, such as divine beings with swords that try and stop them from reaching Ben. Despite this, they eventually meet up with Ben Grimm in his human form, who believes that Reed Richards and his machine are preventing Ben from passing on properly. Eventually, Ben comes to the conclusion that his own self-doubt and reluctance to pass on was keeping him alive, and the team collectively decides to meet their creator to try and persuade him to resurrect Ben. However, once they receive the invitation to meet their creator, it happens to be the last thing they ever expected.
When the members of the Fantastic Four enter the room of the creator, they are surprised to discover that the room itself looks like a regular old office. Sitting at an artist's table, they see an elderly man who resembles Kirby while he is on the phone discussing the plot of an upcoming storyline with his co-worker (it is heavily implied that he is corresponding with Lee). When asked about why the creator looks like this, he responds that the team perceives him in a way that the human mind can comprehend. Kirby, impressed with the Fantastic Four's resolve decides to resurrect Ben, but "re-draws" him back to his traditional rocky appearance, and also explains that the "afterlife machine" will no longer work after this one trip. Before the team finally departs, Kirby gives them one final present, a sketch of the Fantastic Four in the future, and, though they look older, they receive a "happy ending" in that they are alive and happy.
Main characters dying in comic-books is not a new concept, and though the character's deaths are sometimes as creative as they are somber, rarely are resurrection stories just as creative, if not more so. This resurrection story stands out among the rest, in that the characters themselves attempt a rescue from the afterlife itself. Many of these resurrections involve some sort of sci-fi or spiritual element, very rarely do the characters themselves demand a resurrection. Furthermore, the idea that the creator of the Marvel Universe takes on the appearance of one of the major real-world creators of said Universe is a really clever idea.
While comic book creators making cameos in their own comics has been done in the past, most notably Stan Lee and Jack Kirby got kicked out of the wedding between Reed Richards and Sue Storm, this particular appearance in Fantastic Four serves as a touching tribute to one of comics' most legendary artists.
Next: Human Torch Once Hired Spider-Man as His Personal [SPOILER]