Gears Tactics: Battle Tips and Tricks for Beginners
Gears Tactics puts a new twist on the Gears franchise, and here is how to conquer the battlefield in this all-new turn-based tactical strategy game.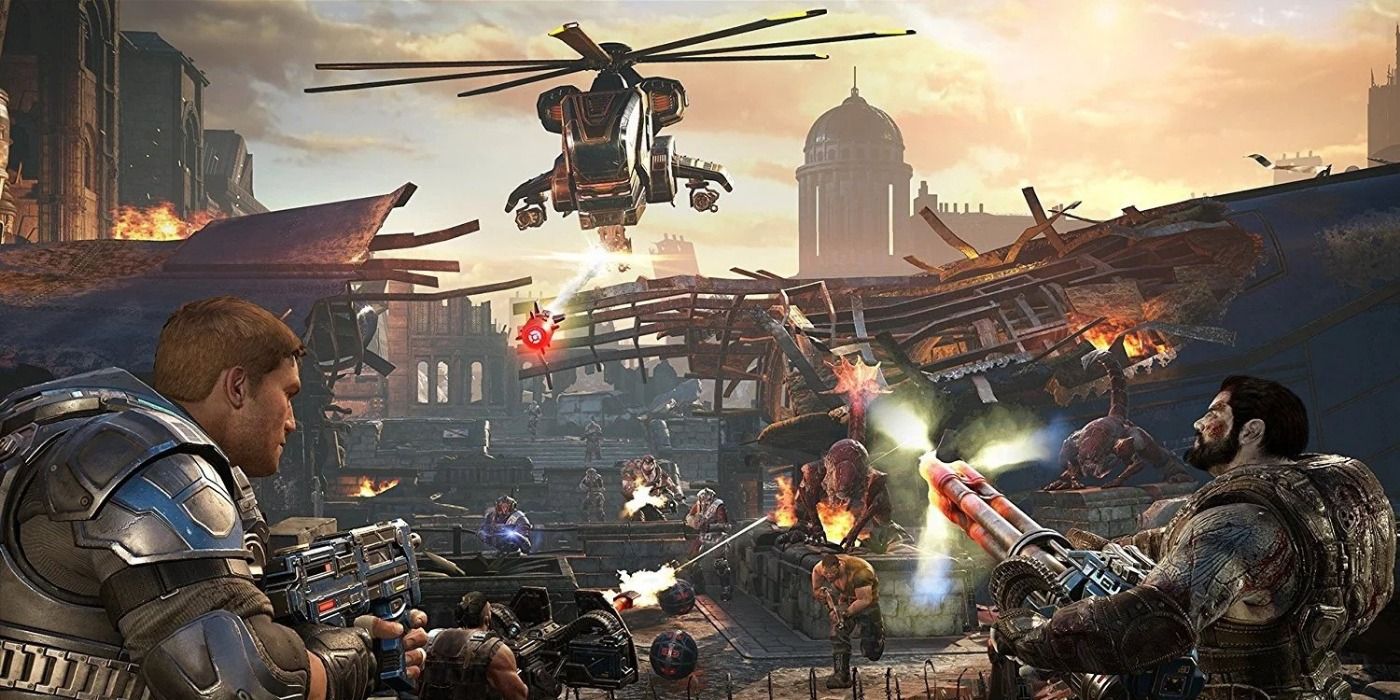 The newest installment in the Gears of War line of games, Gears Tactics, is a completely original take on the Gears franchise. While Gears is known for the over-the-shoulder third-person gunfights and tearing through hordes of enemies in a 3D environment, Gears Tactics keeps that momentum but in a different style. Tactics is similar to games like XCOM where, instead of controlling one character, the player controls a squad of characters while looking at a battlefield with a top-down perspective. This requires players to play Tactics more strategically then they would any other Gears game.
Related: Gears Tactics: How to Recruit More Troops
While Tactics stays true to the lore and world-building of the original games, its gameplay can feel foreign to those who are new to turn-based tactical strategy games. Each move needs to be made carefully to ensure that all units survive and that your team doesn't get overwhelmed by the large hordes of enemies. While players are encouraged not to die in the original Gears games, the consequences for dying in Tactics are a lot more severe as units that die do not come back. This makes knowing some battlefield basics key to succeeding in Gears Tactics.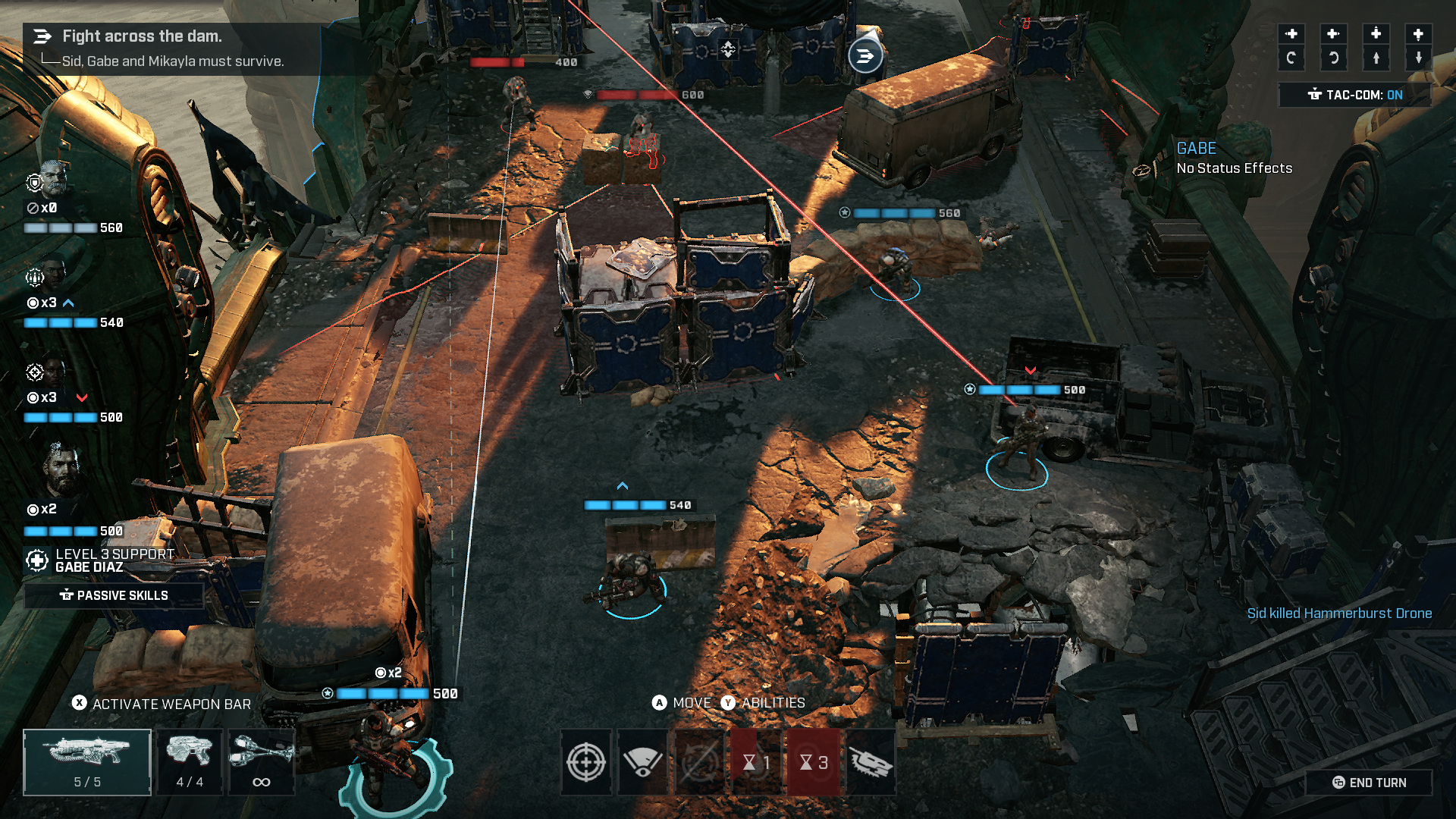 As players will quickly come to realize, taking cover is the most basic but most important part of Gears Tactics. Cover can keep the player safe from harm's way and can allow the player to hold a point push up on an enemy easier than being out in the open.
It is also important to note that not all cover is the same. Some cover is made out of wood or other destructible material which means if that cover takes enough damage it will break and leave your unit vulnerable. Metal cover and other indestructible covers are preferred as players can safely hide behind them without the enemy being able to break through.
There are also different sizes of cover. Short cover allows players to shoot over the top of the cover but leaves them more vulnerable to attacks. Tall cover completely protects the player from frontal attacks, but only allows players to attack around corners and not over the top of cover.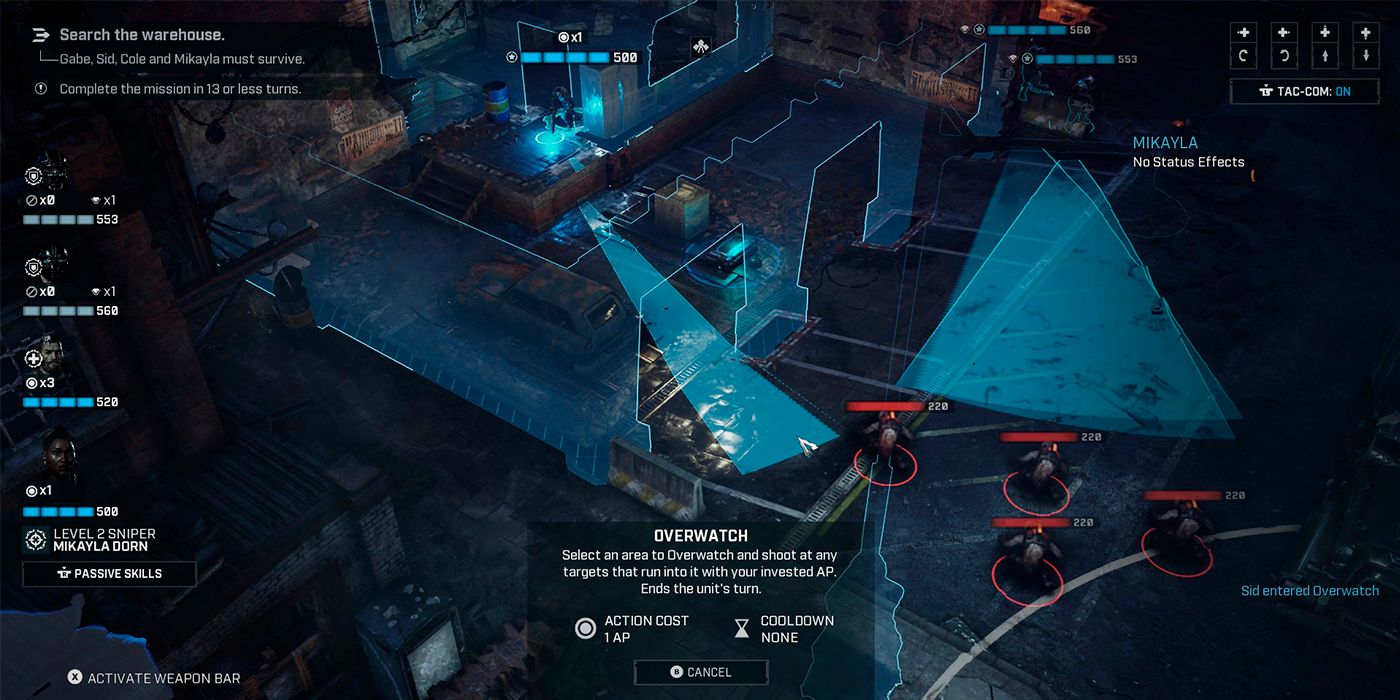 Overwatch is a term used in similar tactical games to describe when a player looks out from cover during the enemy's turn in hopes that an enemy will walk into the player's line of sight. If this happens the player will have the opportunity to attack the enemy during the enemy's turn. In other strategy games, this can be useful, but it is especially useful in tactics because of the number of enemies a player faces in a single round. While players do have a variety of moves at their disposal each round its crucial to deal as much damage as possible while also staying out of harm's way.
Overwatch allows players to stay behind cover and hold angles while still opening themselves up to the opportunity to kill enemy units. However, friendly fire is turned on in Tactics, so if a friendly unit moves into the player's overwatch area they are susceptible to taking damage and possibly being killed.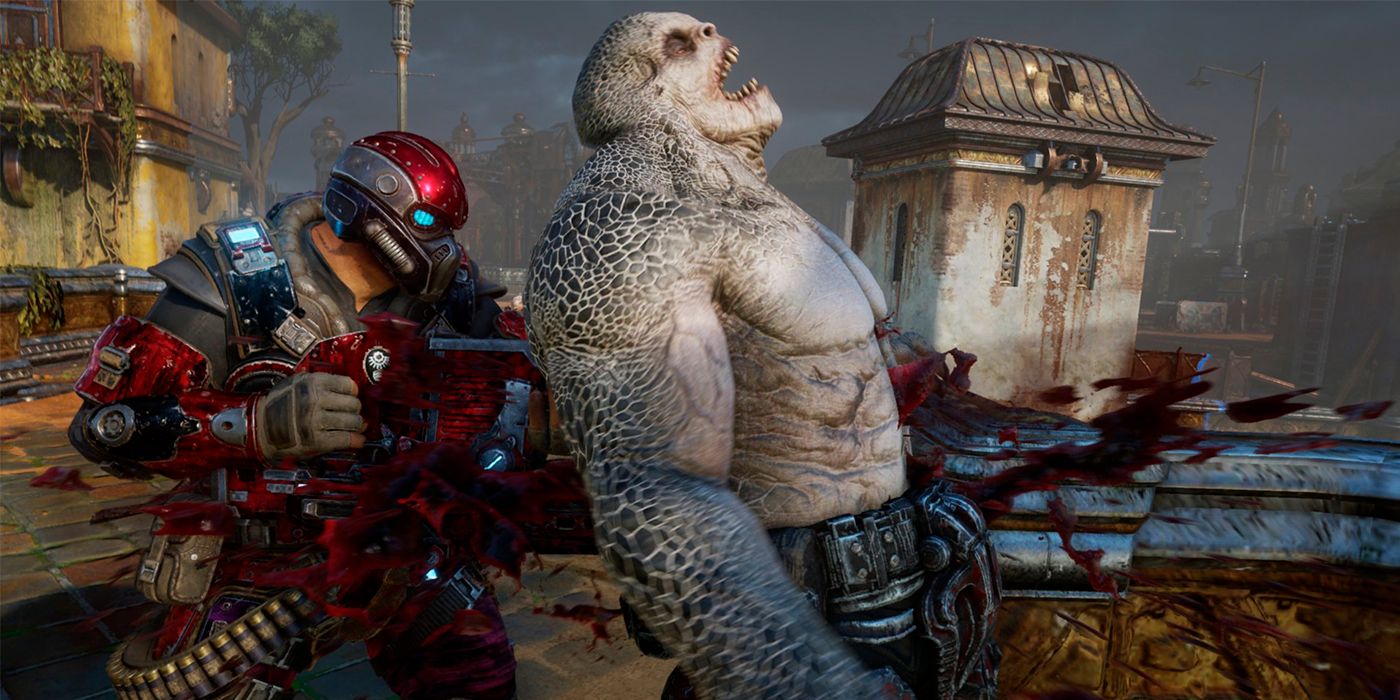 As mentioned before, each unit has a set number of actions they can take in a single term, and these actions are defined by action point. Points can be spent on moving, shooting, throwing grenades, and using abilities. When using an action a certain number of points will be used up, however by performing an execution on an enemy, a player regains action points. Theoretically, if a player chained multiple executions their turn could last forever.
However, there is a bit of a setup to perform an execution. First, players will need to cripple enemies by dealing enough damage to an enemy unit that they fall to their knees, but not enough to kill them. Then, a player will have to move a unit to that downed enemy putting themselves in harm's way to perform an execution. Once looming over your enemy's body, switch to your pistol and execute the target.
This may sound risky, but once again with the large number of enemies being thrown at a player, making as many moves as possible is key to winning battles even if it means taking risks.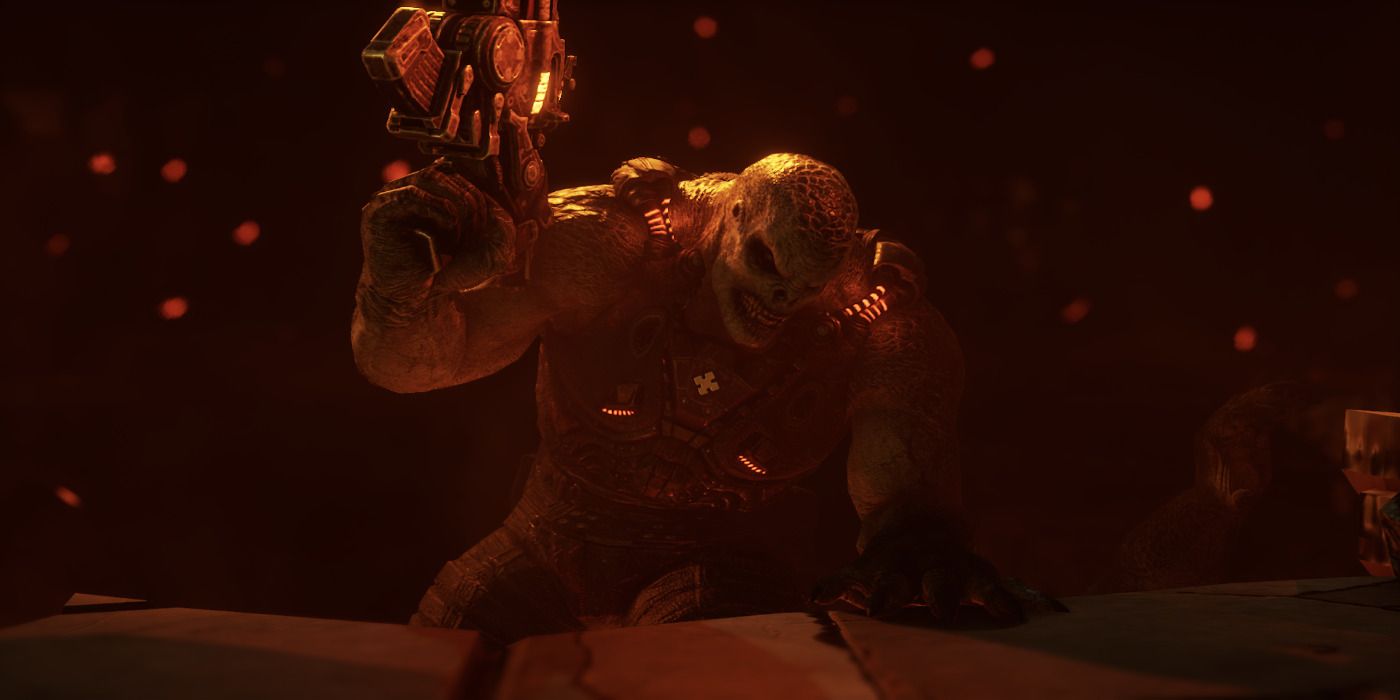 Lastly, it is important to know your enemy. There are four different classes of enemies in Tactics, and each one has their own abilities and stats. It is important to learn what classes look like and what they do before rushing into battle because some enemies are more dangerous than others. Knowing how to defeat a certain type of enemy before engaging can give the player an upper hand.
Drones are the most common form of enemies that the player will encounter first and throughout the entirety of Gears Tactics. They are weak units that attack from medium range and set up overwatch whenever possible. These enemies will appear in large waves and, while weak, they can easily overwhelm a player with their numbers.
Wretches are a more volatile class that, while still weak in terms of hits they can take, they will rush friendly units and attack with melee attacks. Overwatch is best used against these enemies as they will never attack from far off and will always try to get as close to the player as possible.
Grenadiers are heavy units that can tank a few hits. Similar to wretches, grenadiers will rush friendly units with their shotguns which makes them a lot scarier to deal with than Wretches. However, they have to get close to your units in order to deal damage. Try to take them out from far away, and prioritize attacking these units if they overstep their bounds.
And last but not least, Sniper Drones are exactly what they sound like. These guys don't take a lot of hits to kill, but hitting them before dying is the real problem. Their range is much wider than any other enemy unit meaning they can attack your unit before you can attack them. Prioritize taking out these guys or else they will cause a lot of problems for the player.
More: Gears Tactics: How to Customize your Squad
Gears Tactics is available on PC.