Netflix's Time To Eat: Nadiya Hussain's Fastest Delicious Recipes To Make
While many of Nadiya Hussain's creations seem complex, here are the quickest and tastiest dishes to make from season 1 of Time to Eat.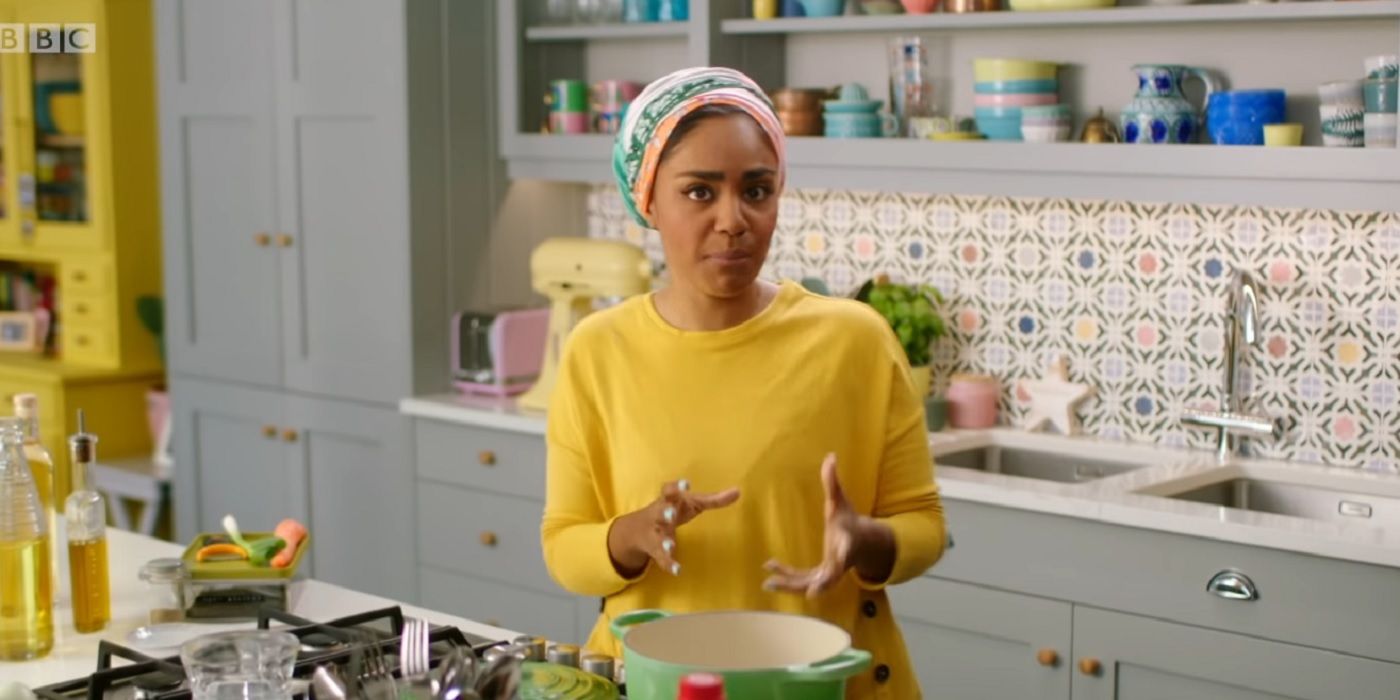 While the overall concept of Netflix's new stand-and-stir series - Time to Eat - is fast and easy dishes that families can make, some dishes are definitely a bit faster and easier than others. While many of Nadiya Hussain's creations seem complex, here are the quickest dishes to make from season 1 of the series.
All the recipes below take less than 30 minutes of prep time and under 30 minutes of cook time. For some, viewers turned amateur chefs and bakers don't even have to cook at all.
Related: Netflix's Time To Eat: Nadiya Hussain's Best Recipes To Try
Ingredients: For Yogurt Layer - 500g/1lb 2oz Greek-style yogurt; 100g/3½oz chia seeds; 5 tbsp honey; 1 tsp ground cinnamon; For Fruit Layer - 500g/1lb 2oz frozen summer fruits; 3 tbsp icing sugar; 1 orange, zest only; For the Cake Layer - 175g/6oz brioche, sliced; 175g/7oz granola; For the Top - whipped cream, from a can
Steps: 1) For the yogurt layer, put the yogurt into a bowl and stir in the chia seeds, honey and cinnamon. Set aside. 2) Place the frozen fruit in a bowl. Add the icing sugar and orange zest and leave the fruit to defrost. Drain off the excess juice into a bowl for later. 3) Place the defrosted fruit in the base of a trifle dish. Rip the brioche into pieces and mix with the granola. Spread in a layer on top of the fruit and drizzle some of the reserved fruit juice over this layer. 4) Spoon on the reserved chia yogurt and leave the trifle to sit in the fridge for 30 minutes. Before serving, squirt on some whipped cream straight from the can.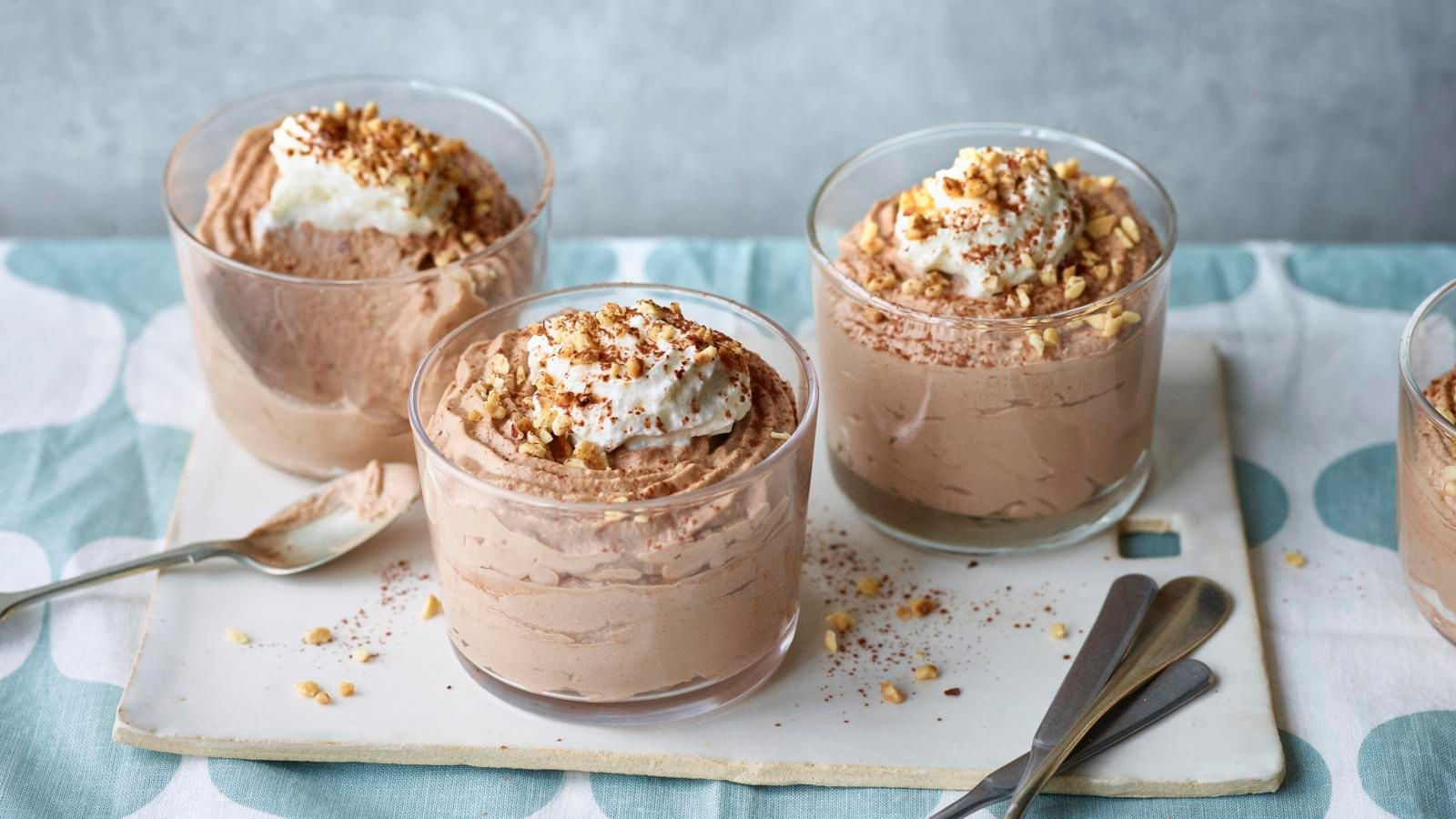 Ingredients: 200g/7oz chocolate hazelnut spread; 50ml/2fl oz full-fat milk; 600ml/20fl oz double cream; 1 tbsp cornflour; 3 tbsp icing sugar; 100g/3½oz roasted chopped hazelnuts; whipped cream, from a can, to serve (optional); cocoa powder, for dusting (optional)
Steps: 1) Pop the chocolate hazelnut spread into a bowl with the milk and heat in the microwave in 10-second bursts until the mixture is runny and viscous, but not steaming hot. This should not take more than 20 seconds. Set aside to cool. 2) Put the cream into a large bowl with the cornflour and icing sugar and begin whipping. As soon as the mixture begins to thicken, pour in the chocolate hazelnut spread and keep whipping until stiff peaks are formed when the whisk is removed from the bowl. 3) Fold through the hazelnuts (keeping a tablespoon back for decorating), then spoon into a serving dish or individual ramekins. If you want it to look extra special, you can pipe the mousse in. 4) Serve with whipped cream if desired, with an extra sprinkling of hazelnuts on top and an optional dusting of cocoa powder.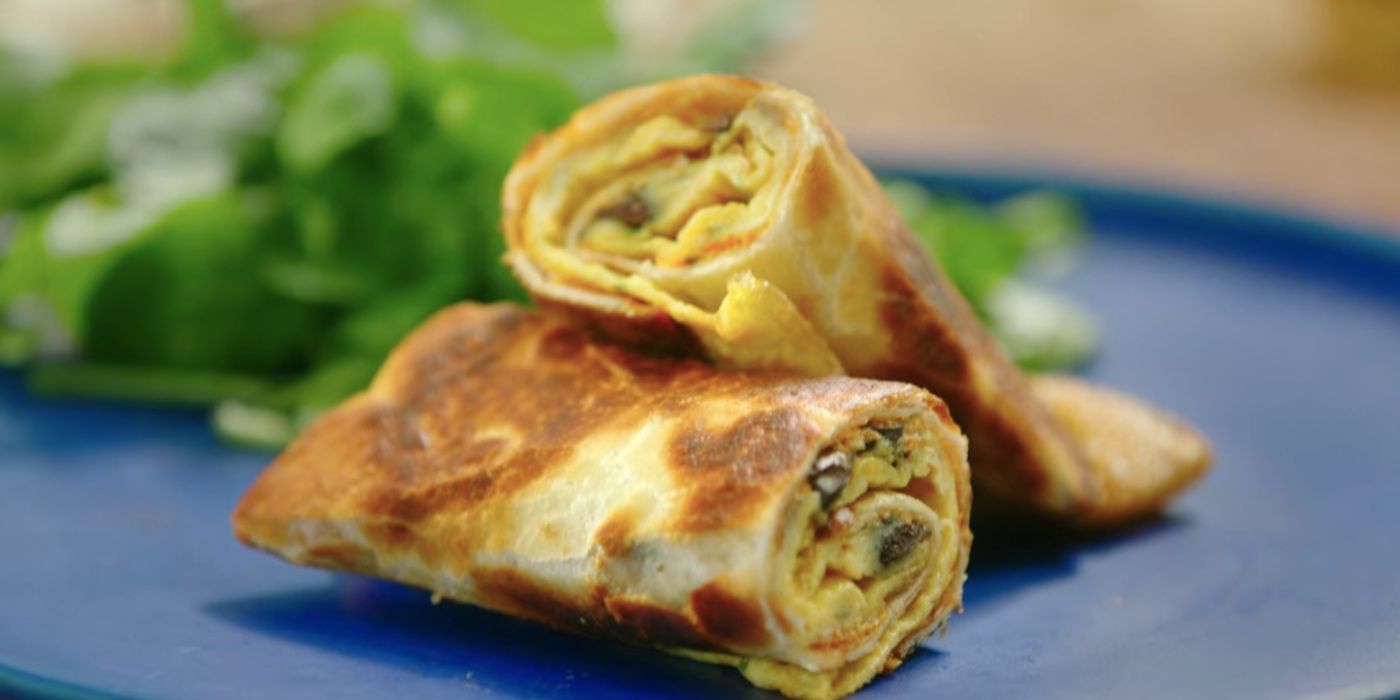 Ingredients: 6 free-range eggs; 1 tbsp dried parsley; 1 tsp garlic granules; ½ tsp salt; ½ tsp black pepper; oil, for frying; 6 small tortilla wraps; 85g/3oz sliced black olives (drained weight from 185g/6½oz jar); 100g/3½oz fresh, frozen or tinned button mushrooms, sliced (optional), defrosted if frozen; 6 tsp sun-dried tomato paste
Steps: 1) Crack the eggs into a bowl, then add the parsley, garlic granules, salt and pepper, and give everything a good mix. 2) Put a small frying pan over a medium heat, and drizzle in two teaspoons of oil. Take the time at this stage to peel the tortillas away from each other. 3) Put the olives into a bowl, and the sliced mushrooms, if using, in another bowl, and have both nearby. Pour 3 tablespoons of the egg mixture into the pan – the eggs should sizzle, but if they don't, turn the heat up a little. 4) Scatter a few olive slices and mushrooms onto the wet egg mix. 5) Take a tortilla wrap and spread it with a teaspoon of sun-dried tomato paste. Quickly put the tortilla on top of the egg, paste-side down. While the wrap and egg are cooking, get the next wrap ready and spread with the paste. 6) Using the back of a slotted spatula, press the top of the tortilla to help distribute the egg under the wrap. Cook for no more than 30 seconds, then, as soon as the egg has glued itself to the tortilla, flip over and cook on the other side just to warm it through for another 30 seconds. 7) Take the pan off the heat and put the tortilla/egg on a plate. Roll the whole thing when it is cool enough to touch. Do the same with the rest of the wraps until the egg is used up. Serve.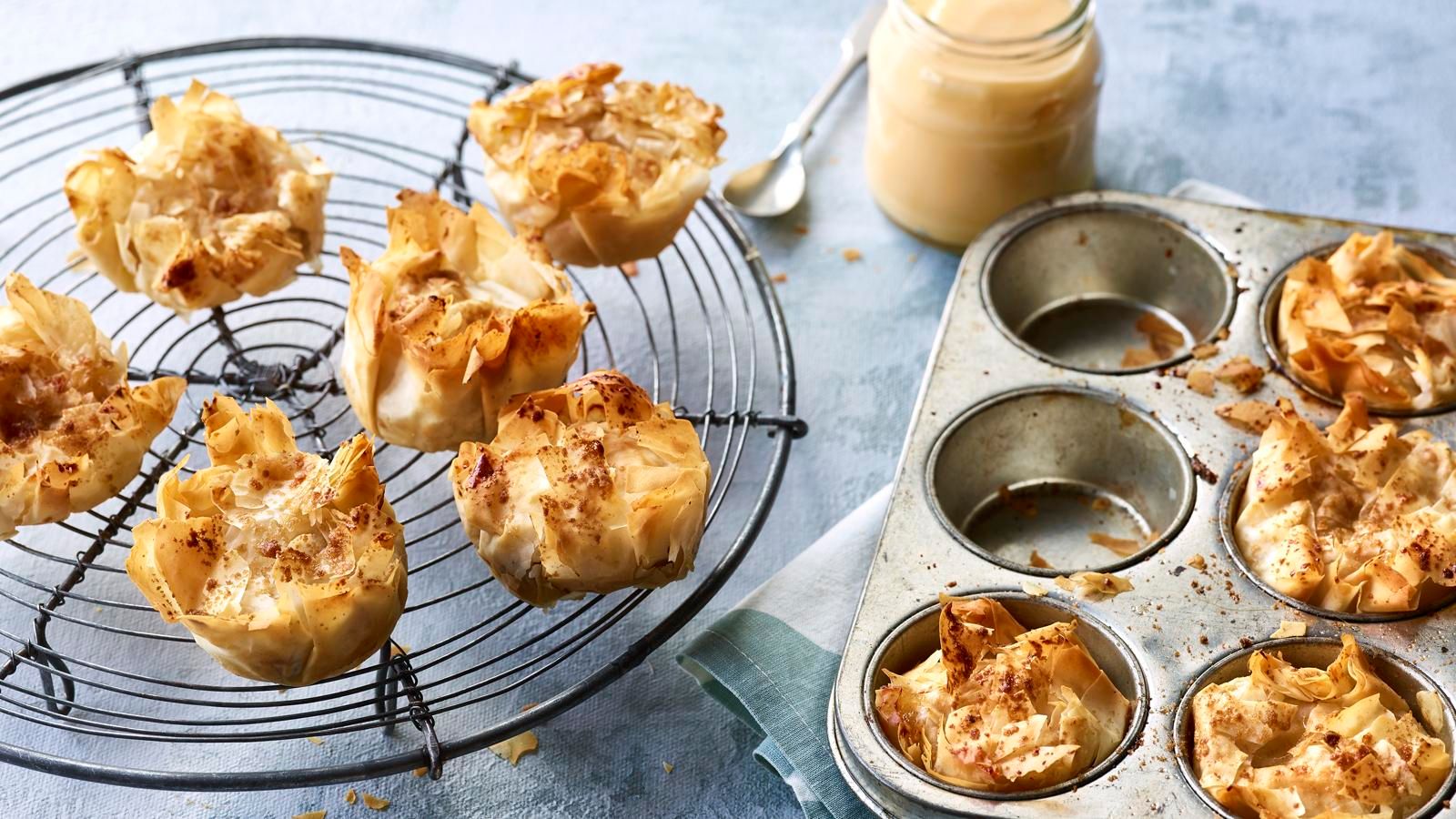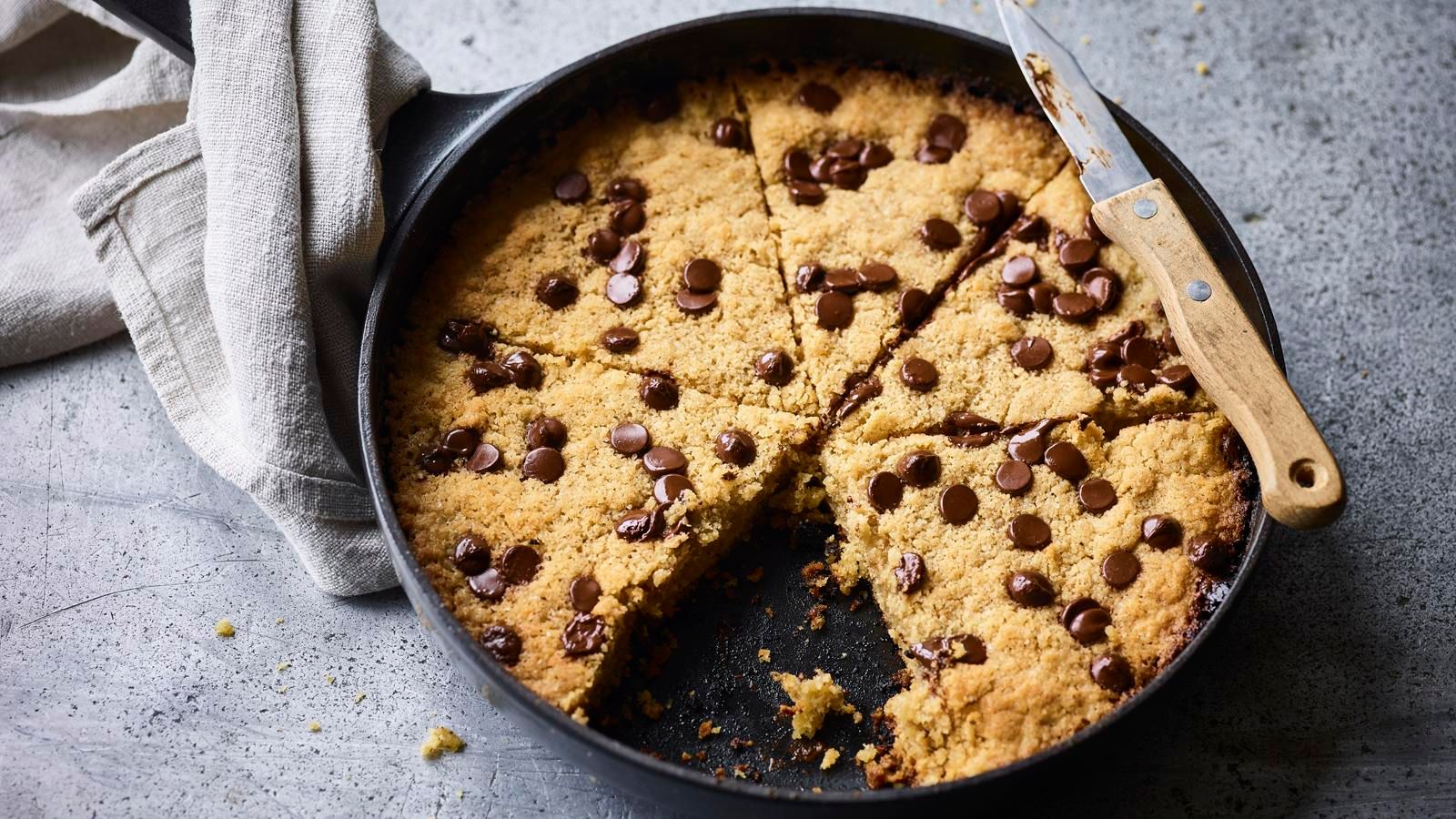 Ingredients: 150g/5½oz unsalted butter; 160g/5¾oz brown sugar; 1 medium free-range egg; ½ tsp vanilla extract; ½ tsp almond extract; 225g/8oz plain flour; ½ tsp bicarbonate of soda; ½ tsp salt; 200g/7oz chocolate chips
Steps: 1) Place a small non-stick, thick-based heavy frying pan (23cm/9in) on a medium to low heat. Add the butter and allow it to melt, then add the sugar and stir until it has dissolved. Take off the heat and let it cool for a few minutes. 2) While the butter is cooling, lightly beat the egg in a bowl and add the vanilla and almond extracts. 3) Now add the flour, bicarbonate of soda and salt to the mixture in the frying pan, followed by the egg mixture. Stir until you have a smooth cookie batter. 4) Press the batter down and sprinkle over the chocolate chips. 5) Now leave on a low heat for 15–20 minutes. If you find the bottom catches, you may find it helpful to pop a lid on the pan for 5 minutes. What you should end up with is a crisp base and gooey top. 6) Let the cookie cool and set for about 15 minutes. I like to take out slices and eat them warm with ice cream.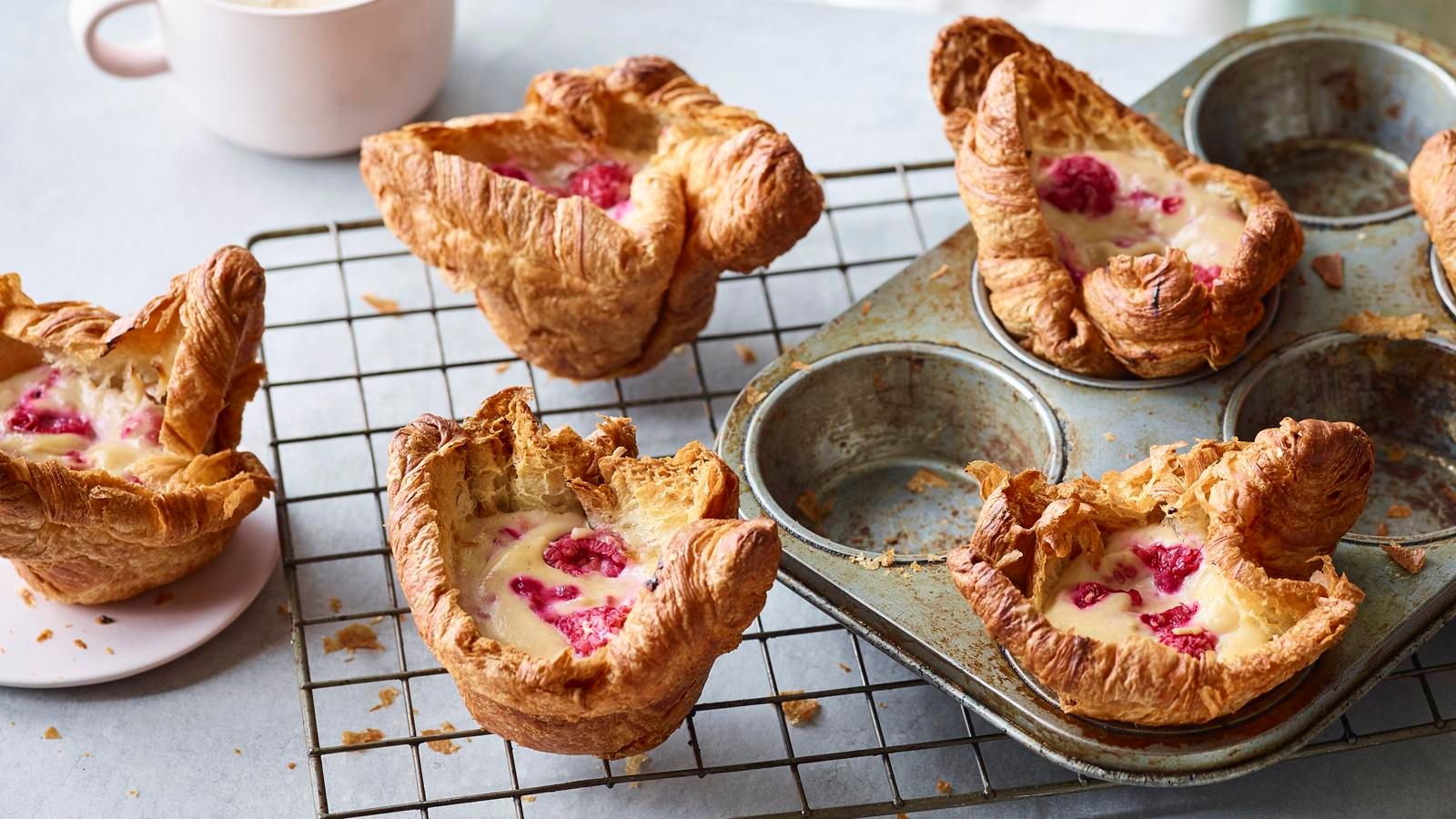 Ingredients: 250g/9oz ricotta (or soft full-fat cream cheese); 2 tbsp caster sugar (or vanilla sugar, if you have any); 1 tsp vanilla extract (optional); 150g/5½oz fresh or frozen raspberries; 2 tbsp plain flour; 1 free-range egg; 6 all-butter croissants
Steps: 1) Preheat the oven to 390F/350F Fan and have a 12-hole muffin tray at the ready (to give the six croissants room!) 2) Put the ricotta in a bowl and whisk to loosen, then add the sugar and vanilla (if using) and mix really well. Add the raspberries and give them a stir, so that they don't break up too much, but bleed enough to give that lovely marbled effect. 3) Add the flour and egg to the remaining mixture and mix really well. 4) Cut each croissant horizontally, the way you would cut them if you were going to butter and jam them, but not all the way through. Open each croissant up and fit them inside the cavities of your muffin tray – you are aiming for what looks like a croissant shell cup. You might need to press lightly, to open the cavity. Do this to all 6 croissants, then fill with the ricotta mixture. 5) Bake in the oven for 15 minutes – there should be a gentle wobble in the center. These are delicious eaten straightaway, but equally delicious chilled from the fridge if you have any left over. They will keep for 3 days in the fridge. 6) If you plan on freezing them, pop them into a freezer bag (if you have several, freeze them uncovered on a tray for an hour first, then pop into a freezer bag).
Savory French Toast - Episode 5
Ingredients: 6 free-range eggs; 100ml/3½fl oz full-fat milk; ½ tsp salt; 2 tsp sugar; ¼ tsp ground turmeric; 1 tsp garlic granules; 1 tsp onion granules; 6 slices sliced white bread; 3 slices cooked ham, turkey, or meat-substitute such as Quorn; 3 slices mild cheese; vegetable oil, for frying; ketchup, for serving (optional)
Steps: 1) Put the eggs into a shallow bowl, wide enough to take a slice of bread, and add the milk, salt, sugar, turmeric, garlic granules and onion granules. Mix well and leave to sit for 5 minutes, allowing the granules to re-hydrate in the egg mix. 2) Sandwich the slices of bread together with the ham and cheese. Dip them into the egg mixture and pop them on a plate. 3) Put a non-stick frying pan on the hob with a thin layer of oil on the base. 4) Take one of the sandwiches and dip it back into the egg mixture to get another soaking, then fry on a medium heat for 3 minutes, until it has a golden-brown color and the cheese begins to melt. Turnover and cook for another 3 minutes, pressing lightly with a spatula to help seal the bread, then pop the sandwich onto a plate lined with some kitchen paper. When they're all done, cut them in half. 5) Add some more oil to the base of the pan and repeat with the other sandwiches, dipping and frying in the same way. Depending how absorbent the bread is, you may find you have enough eggy mixture left to make another sandwich. 6) Serve hot, with a dollop of ketchup if you like. These are best eaten fresh, but if there are any leftovers you can wrap them in foil and freeze them.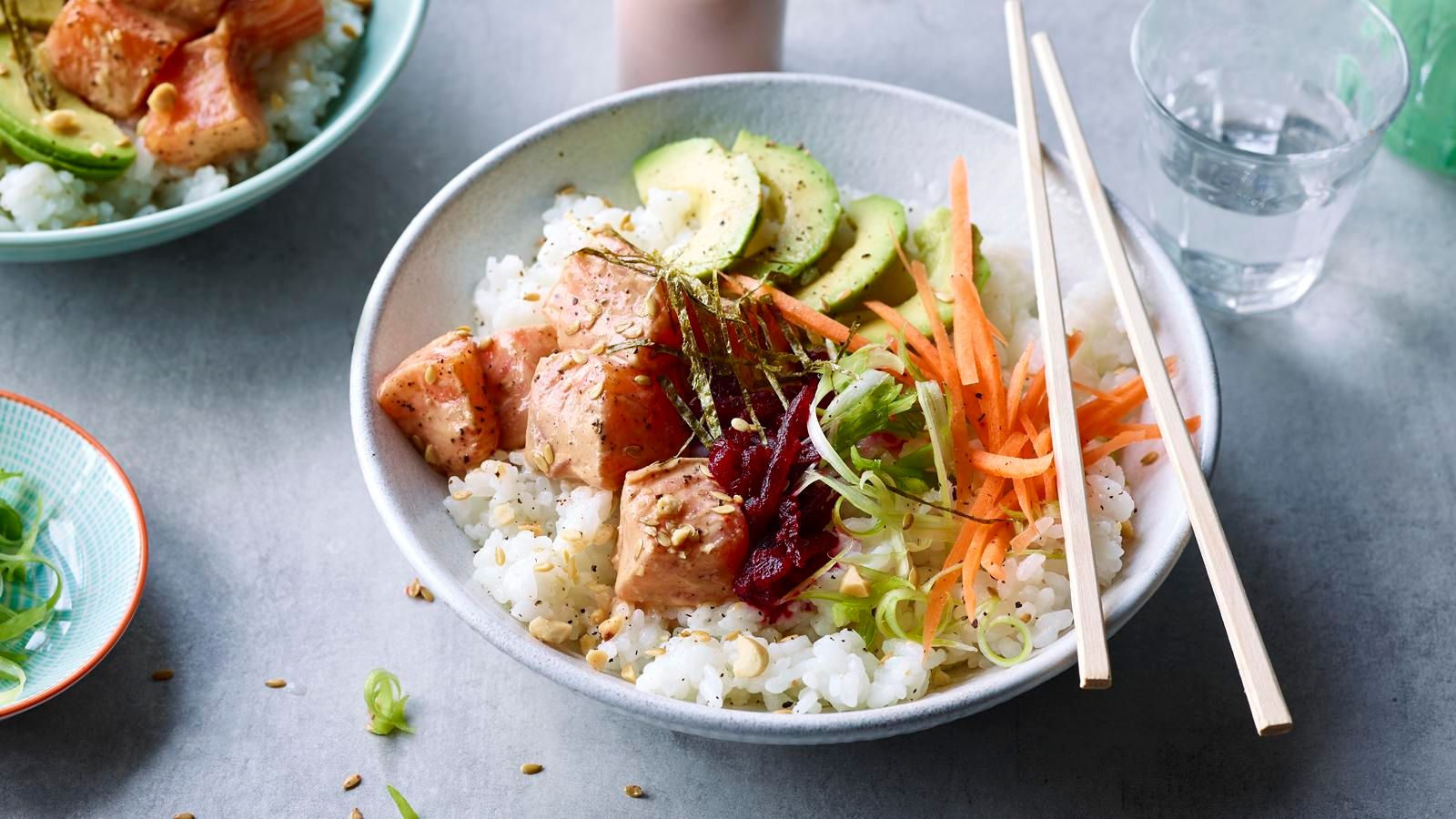 Ingredients: For the Rice - 500g/1lb 2oz sushi rice or sticky rice; 2 tbsp apple cider vinegar; 1 tsp salt; 2 tsp sugar; For the Sauce - 25g/1oz mayonnaise; 3 tsp soy sauce; 1 tsp sesame oil; ½ tsp fish sauce; 1 tbsp Sriracha sauce; 1 lemon, juice only; 1 tsp black pepper; For the Finish - 2 sushi grade skinless salmon fillets (about 200g/7oz total), cut into cubes; 2 small or 1 large avocado, sliced (with a squeeze of lemon to prevent browning); 4 tbsp pickled red cabbage; 1 large carrot, grated; large handful of salted peanuts, roughly chopped; 2 spring onions, sliced; sesame seeds; nori sheets, snipped into strips; sprinkling of black pepper
Steps: 1) Put the rice in a saucepan and wash until the water runs clear. Add just enough water to come 1cm/½in above the rice. Stirring all the time, place on a high heat (stirring will ensure that the rice doesn't settle on the base). Once it comes to the boil, leave it to simmer on a medium heat until all the water has evaporated. Pop the lid on and leave on the lowest setting to steam (about 10 minutes). 2) Meanwhile gather together everything you need to finish off the bowl. 3) Make the sauce by mixing together the mayonnaise, soy sauce, sesame oil, fish sauce, Sriracha, lemon juice and black pepper. Put the salmon into a bowl, then pour over the sauce and mix well. 4) Once the rice has steamed, mix the vinegar, salt and sugar in a small bowl, then pour over the rice and stir through. 5) Divide the rice between two bowls and start adding all the different finishing ingredients. The salmon first, then the avocado, pickled red cabbage, carrot and peanuts. Sprinkle with the spring onions, sesame and nori, add a sprinkling of black pepper, and serve.