Sea Of Thieves Comes To Steam June 3 & Might Find Its Perfect Home
Rare's adventurous Sea of Thieves will bring in more PC players with a June 3rd release on Steam.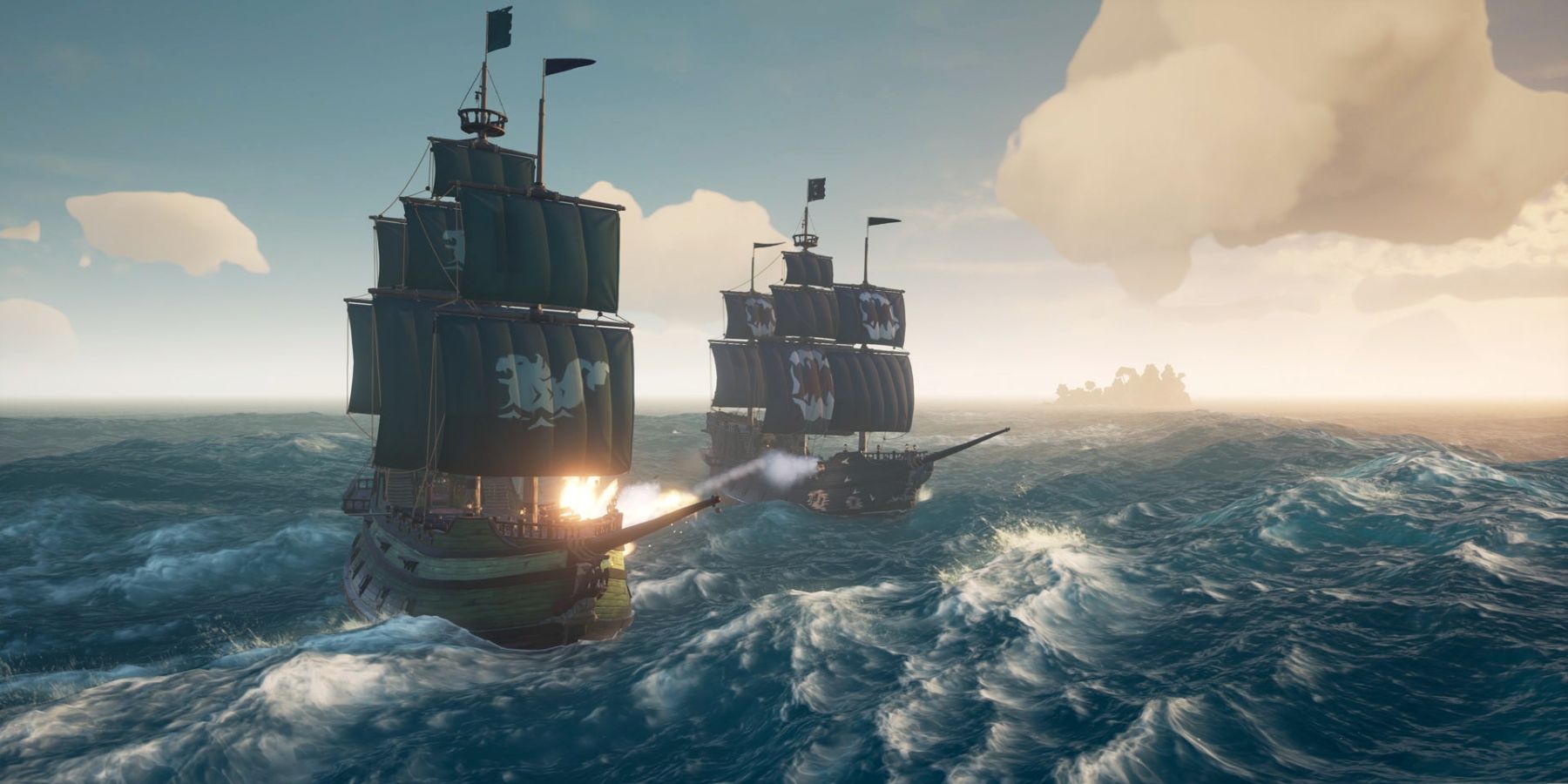 Rare's Sea of Thieves will be docking in Steam at last on June 3rd, 2020, allowing Steam players to play the pirating and adventuring multiplayer game for the first time. Previously those with Xbox One could use Microsoft's Play Anywhere features to play Sea of Thieves directly with their friends, but this was limited to players who were already part of the Xbox ecosystem.
When it launched back in 2018, Sea of Thieves was an open-ended pirate world set in a fantasy cartoon Caribbean sea. Players joined a crew, learned how to sail a ship, and followed treasure chests or strongholds to hunt down treasure while fighting skeletons – and defending against attacks from other players. While reviews praised the mechanics, the game felt a little too bare-bones. Rare has spent the time since building the game into a massive sandbox with a wider range of abilities, locations, game modes, treasures, options to join pirate alliances, and much more, while managing to grow Sea of Thieves to 10 million players.
Related: Sea of Thieves is Finally Letting Crewmates Revive Each Other
This growth put the game into an ideal position to expand into Steam, and Rare has finally added details with an Xbox announcement about how the Steam version of Sea of Thieves will look. The game will include all the updates that the Xbox One version has experienced, including The Hungering Deep (famed for adding massive sea monster battles) and the Anniversary Update, which revamped the game with a massive amount of new content, including Arena mode and the Tall Tales quests – which added deeper, story-like missions for pirates who really wanted to sink their teeth into the game.
Rare has also devised a few ways to help greet new Steam players who may be largely unfamiliar with Sea of Thieves and how to set sail. This includes a new showcase trailer (embedded above) to introduce the concept of the game and the latest content, appropriately called The New Legends. When players boot up the game on Steam, they will also be greeted with Maiden Voyage mode, a "narrative-driven tutorial experience" which will help introduce all the game's mechanics, how to fight and heal, how to operate your ship, and other important tips. When the game launches, it will be available for $39.99.
It's important to note that Sea of Thieves on Steam will be its own ecosystem. Unlike the crossplay between Windows 10 and Xbox, the Steam players won't be able to join Xbox players on the same voyages, which means they'll have to form teams and alliances of their own. As a result, it will be interesting to see how tactics and teams evolve on Steam; On Xbox, there were always a certain number of players that just want to explore the high seas, and a certain number that want to do nothing more than pillage and pilfer other players. Can both groups find plenty to enjoy on Steam, too? It's an interesting balance that Sea of Thieves has to hold to succeed, and a final test to find if Rare's hard work has paid off.
Next: Forget Atlas, It's time to Replace Sea of Thieves         
Source: Xbox