SpongeBob SquarePants: 10 Fan Art Pieces Of SpongeBob That Are Awesome
Nickelodeon's SpongeBob SquarePants has become an integral part of pop culture, and these awesome fan art drawings pay tribute to the titular sponge.
The television show SpongeBob SquarePants is one of the most successful in Nickelodeon's history. The show began airing in 1999 and has maintained its success for over 2 decades. The show has also inspired movies, a musical, and several interesting products.
RELATED: Top 10 90s Nickelodeon Cartoons, Ranked
Of course, with any widely successful show comes a huge fanbase, and SpongeBob SquarePants is no different. As the show has been airing for so long, SpongeBob fans span several generations. Many fans choose to honor this show by creating fan art of their favorite characters. Sometimes the fan art focuses on capturing the spirit of the character, sometimes it creates the character in a new animation style, and other times there is a total redesign of the character. Check out these 10 amazing fan art imagines of SpongeBob to see what these incredible artists have done.
10

Jellyfishing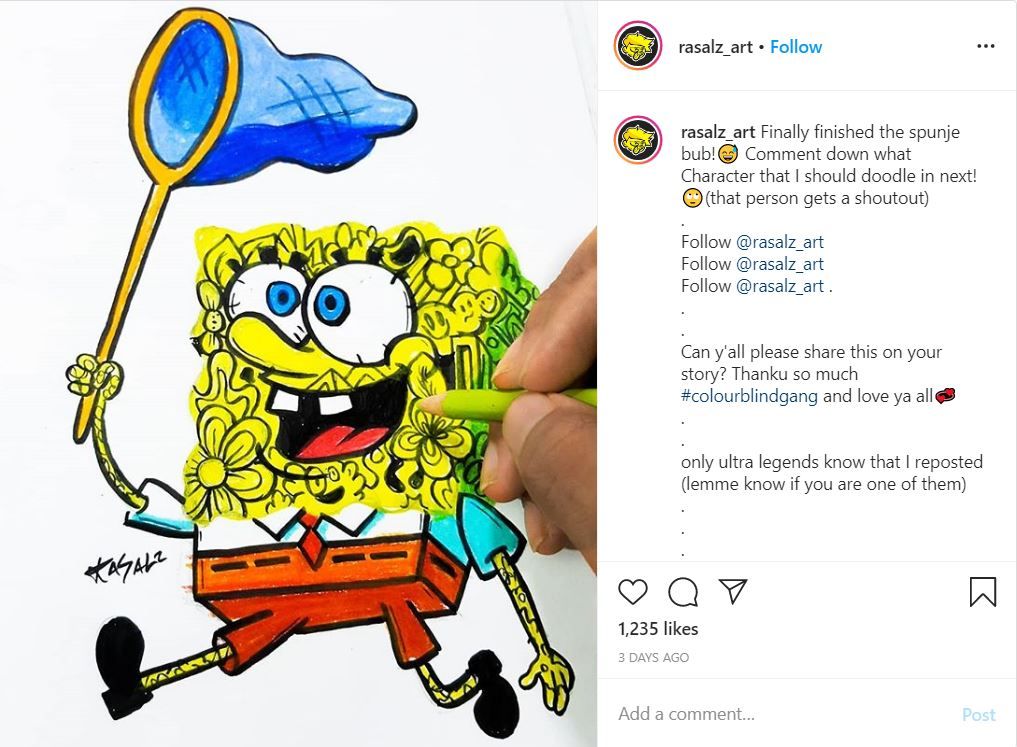 Art by rasalz_art.
This artist certainly put their own spin on SpongeBob. The character contains many of the classic elements of the original SpongeBob design, as his clothing is unchanged and he has the same shape.
What makes this SpongeBob interesting is that Rasalz Art has decided to draw smaller items within SpongeBob's body. These pictures replace the circles that normally demonstrate his spongy texture. The items all seem to match SpongeBob's personality, with smiley faces and flowers throughout the design.
9

Modern SpongeBob
If SpongeBob were a more recent cartoon, he may look like this. This artist has chosen to modernize SpongeBob, giving him a 2020 makeover.
SpongeBob is taller, sleeker, and features a fresh new set of clothing. This SpongeBob seems more mature and cooler than the SpongeBob fans have grown to know and love. Considering current circumstances, SpongeBob is even doing his part by donning a mask, yet he still manages to look cool while doing it.
8

3-D SpongeBob
SpongeBob SquarePants has typically been animated using 2-D animation. When the trailer for The SpongeBob Movie: Sponge on the Run dropped, fans discovered that this movie was going to be a little different.
RELATED: SpongeBob SquarePants: 5 Reasons Why Mr. Krabs Is Secretly A Good Guy (& 5 Why He's The Absolute Worst)
Instead of sticking to 2-D animation, the movie will be fully animated in stylized CGI. This obviously inspired sno_devianart, who created a rendering of SpongeBob and his pet snail, Gary, in this new stylized format.
7

Cute SpongeBob
This SpongeBob redesign is different from many of the other SpongeBob fan art creations. The artist, pantherpunch, is primarily known for creating manga art.
This inspiration can definitely be seen in this picture, particularly in SpongeBob's eyes and eyebrows. This stylistic reimagining gives SpongeBob a more playful, youthful, and cute appearance, which works well with the character's personality.
6

SpongeBob SneakerFeet
In this fan art by maticomics64, SpongeBob becomes an athlete. He is sporting a pair of Nike shoes that differ greatly from his typical plain black work shoe.
The character's legs are elongated and it seems as though the shows have given him some extra confidence (as if he needs any.) He strolls along, showing off his style.
5

Grandma's Cookies
Fans were delighted when SpongeBob's grandmother was first introduced in the episode "Grandma's Cookies." It became clear that these two share a wonderful loving relationship, and one of their favorite activities to do together is enjoying some nice warm cookies and cold milk.
RELATED: Spongebob Squarepants: 5 Reasons Why Mr. Krabs Is The Best Boss (& 5 Why Plankton Is Better)
This art brings back the warm feelings of joy associated with Grandma Harriet's first introduction. SpongeBob doesn't have many sentimental moments, but this was certainly one of them.
4

Hygenic SpongeBob
This artist used a 3D pen to create a stunning piece of artwork. The image is so textured that it seems as though you can actually touch it. Upon first glance, fans may believe this image was created using toothpaste, chocolate pudding, and fingerprint.
The amount of precision that went into this piece of art is evident. Not only did the artist create a beautiful rendition of SpongeBob, but they also formed the lines in their 3D painting in a way that leads viewers to believe there are actual objects attached to the page.
3

Mutated Sponge
Not all of the SpongeBob fan art redesigns are as cute as the ones pictured above. While it is clear this is a picture of SpongeBob, as he displays his signature uniform and spatula, he looks very different.
SpongeBob's pores have opened up as if he has been infected by some virus. Taking a happy playful character and bringing him into the horror genre is no easy task. This artist strikes the perfect balance, keeping some of SpongeBob's most recognizable attributes while successfully transitioning him into a new genre.
2

Zombified SpongeBob
Zombies have grown increasingly popular, so it's no surprise that SpongeBob got a zombie makeover. The detail in this work is amazing. The artist made a smart choice to create cracking in SpongeBob's skin, with bits flaking up. He looks like he is dried out, which makes sense for a zombified sponge.
1

Adorable SpongeBob
There is something a little bit off about SpongeBob, but that is part of his charm. This picture captures SpongeBob's essence perfectly. Looking at him, one can tell he's a bit strange, but it works for him.
SpongeBob is adorable and happy, and one can't help but smile looking at him. The first instinct is to reach out and give this character a hug!
NEXT: Spongebob Squarepants: 5 Reasons Why Squidward Is The Show's Unsung Hero (& 5 Why He's Still A Terrible Person)