Star Wars: 10 Incredible Rey Cosplays That Look Just Like Her
Star Wars fans' attachment to Rey is apparent through ten of these cosplays, all of which Daisy Ridley herself would be proud of.
The Star Wars sequel trilogy has an ensemble of enjoyable characters, both new and old. Luke, Leia, and Han were joined by many newcomers like Finn, Poe, and Kylo Ren. Fans were quick to latch on to all the characters, with Rey being no exception.
RELATED: Star Wars: 10 Reasons Why Rey & Finn Aren't Real Friends
Throughout the trilogy, Rey has proven to be among fans' favorite characters. This could be because she represents hope and defiance against anything that threatens peace. Fans have expressed their love for Rey through things like buying merchandise, making fan art, and cosplaying as her. The fans' attachment to Rey is apparent through ten of these cosplays, all of which Daisy Ridley herself would be proud of.
10

Rey And BB-8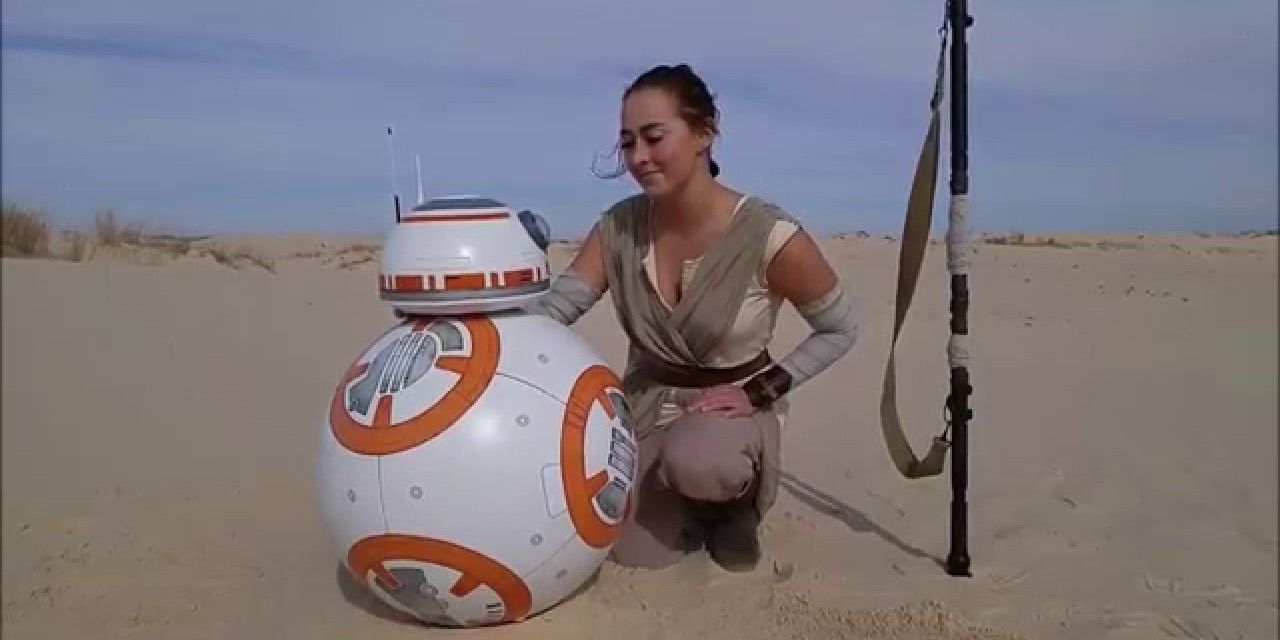 Rey's relationship with BB-8 has only strengthened over the course of the films. From the moment she rescues him to when they walk towards the suns on Tatooine, they've become friends with an unbreakable bond.
Their friendship can be seen in MCubed Cosplay's cosplay. In the cosplay, Rey and BB-8 are having a conversation and simply enjoying one another's company.
9

Rock And Roll
Rey learns about many abilities through the Force. She learns to float off of the ground, heal other people's wounds, and lift rocks all through the Force.
Michaela Vivant shows Rey using this ability in her cosplay. She cracks the earth with her trusty companion BB-8 rolling beside her. It's clear through this cosplay that Rey is a force to be reckoned with.
8

In The Light Of The Day
Rey is always ready to stand up for what she believes in, even if nobody else is with her. No matter what comes her way, she's constantly prepared to put up a fight.
Rey's readiness to fight is present in Dead_unicorn.'s cosplay. With her lightsaber and determination, there isn't much that can stand in Rey's way.
7

May The Fourth Be With You
In The Rise of Skywalker, Rey meditates while saying "be with me" to connect with the Jedi of the past. This shows how Rey's learned to slow down to look for solutions, compared to when she was more impatient.
RELATED: Star Wars: 10 Biggest Ways Rey Changed Throughout The Sequels
In Red Lilly's cosplay, Rey's more calmer side is shown. She's learned from Luke and Leia and is patiently listening to the Force.
6

Rey Of Sunshine
In Caitlin Christine's Rey cosplay, Rey is still looking as determined as she always does. However, this is one of the few cosplays on the list where she's on her home planet Jakku.
This shows that from the beginning, Rey has always been the good and brave person that she is today. Her friends may have helped bring more of that out of her, but Rey demonstrated early on that she fought to defend.
5

Courageous Rey
In The Force Awakens, Rey had never used a lightsaber before. Nevertheless, when she saw Finn was in trouble, she didn't hesitate to use it to defend him. Rey's courage in the face of danger shows just how much her friends mean to her.
RELATED: Rey vs Anakin: 5 Reasons Why Anakin Would Beat Rey (& 5 Reasons Why Rey Will Always Win)
The cosplay by Candy Cosplay reimagines the fight between Rey and Kylo Ren. In the cosplay, Rey is as brave as she was during the fight. Though the odds were against her, Rey didn't give up and fought for her friend.
4

Master And Apprentice
An interesting theme in the sequel trilogy is Rey's struggle with the light and dark side of the Force. In The Last Jedi, she didn't hesitate to go to the dark to learn more about her past. Though she wanted to be with the light, she found herself being pulled to the dark more than once.
Kingrae on Instagram was able to capture Rey's duality. The cosplay also gives a better insight into how Rey would look like had she stayed by Palpatine's side.
3

Now Reach Out
In the scene from The Last Jedi in which Rey goes toward the dark side, she was first instructed by Luke to feel through the Force. With the Force, Rey is able to see more than just her environment, but everything that surrounds her.
RELATED: Star Wars: 10 Reasons Why Rey & Luke Aren't Real Friends
Mayanne recreates the feeling of Rey being in touch with her surroundings in her cosplay. The abstract-feeling of the background shows that Rey isn't looking with her eyes, but with the Force.
2

Rey Across The Stars
Before meeting Finn and BB-8, Rey had never left Jakku. Even after she left, she hadn't been to too many planets before training with Luke. As someone as curious as Rey, she'd likely want to explore the galaxy and see all it has to offer.
In Make It Double Cosplay's version of Rey, she's holding her lightsaber with a backdrop of the galaxy behind her. Now that she's saved the galaxy, she can finally go explore it.
1

In The Dark Of The Night
Lightsabers are great weapons for fighting and defending. They can pierce through almost anything and counter any weapon that threatens its user. Not only are they good weapons, but they also work as a light source in dark environments.
Yume Costume Artist's use of the lightsaber works flawlessly in her cosplay of Rey. The lightsaber illuminating the space, with some of its light even hitting Rey's face, shows just how much hard work went into it.
NEXT: Star Wars: 10 Rey Skywalker Memes That Are Just Too Funny