Teardown Is Minecraft With Red Faction's Destruction Physics
An upcoming PC game, Teardown offers a Payday-like gameplay concept combining Minecraft's voxel-based visuals with Red Faction's destruction physics.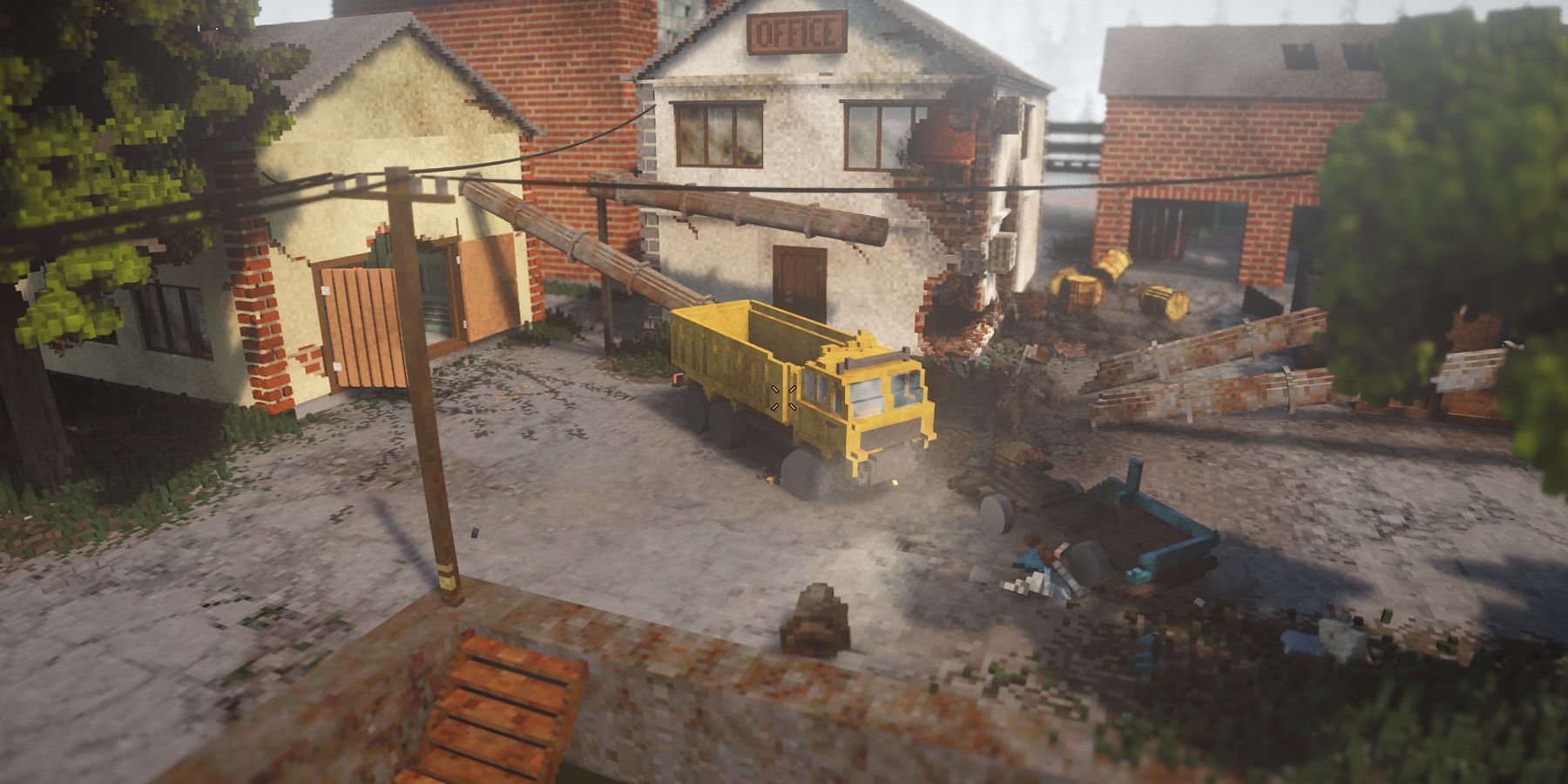 Teardown is another take on Minecraft-like, voxel-based worlds, although it offers a different gameplay approach enriched with Red Faction's destruction physics. It's a common situation in the industry to adopt Minecraft's simplistic visuals for a wide array of clones and imitators, and on a rare occasion, some of them can successfully stand out utilizing ambitious ideas, while diving into other genres.
Even Minecraft itself is expanding into new genres with several experiments. For instance, there's been an adventure game Minecraft: Story Mode developed by Telltale and supervised by Mojang. There's also a couple of other gameplay concepts with Minecraft Dungeons throwing itself into Diablo-esque realms, and Minecraft Earth exploring the phenomenon of Pokémon GO. Regarding other developers and their attempts to harvest Minecraft's popularity in their favor, Teardown might be one of the most original and distinctive copycats out there.
Related: Mojang Announces Minecraft: Dungeons, A New Dungeon-Crawling Minecraft Game
Judging by its description, Teardown combines voxel-based environments with Red Faction-inspired destruction physics to deliver Payday-like gameplay with less emphasis on action itself, focusing on careful planning and execution of heists instead. The main goal is to collect – or steal – all the valuable items located on fully destructible and interactive levels before the cavalry arrives, and the player gets caught. According to the single available gameplay video of Teardown, it appears that alarms won't go off until a player picks any of the items scattered across maps. As soon as the first collectible disappears, a timer starts a countdown of 60 seconds until the player is caught and the mission is failed. This way players can creatively plan their strategic heists building up pathways to pave the most efficient routes – and that's where physical-based destruction comes helpful.
The first part of the game is basically a sandbox where players explore levels destroying and modifying the environment in order to link all of the valuable items with a single path. It's a fairly peaceful and safe gameplay section with no dangers. Players can use hammers, explosives, guns, and even vehicles to create holes in walls and bring down structures to climb them. There's also a possibility to build simple ledges and bridges using planks and wires. After the preparation is done, the action part comes when the robbery plan is being executed. Players need to collect all of the items and reach the extraction point before the timer runs out and security arrives.
While Teardown does inherit visual similarities from Minecraft, it's a completely different game with a robust destruction system. Since this is a project of passion from a single developer, the title will likely stick to a smaller scale and a modest amount of content, but it is nonetheless intriguing and worth experiencing. Complete freedom in fulfilling objectives will probably attract creative players to Teardown, which could greatly benefit from offering mod support to engage the community.
Next: Minecraft Now Has Over 100 Million Monthly Active Players
Teardown releases some time during 2020 on PC via Steam.
Sources: Teardown/Steam, Dennis Gustafsson/YouTube