Why James Bond Doesn't Use A Walther PPK In Some Movies
The Walther PPK is world-famous as James Bond's signature weapon. However, 007 has occasionally ditched the Walther and used other guns in his movies.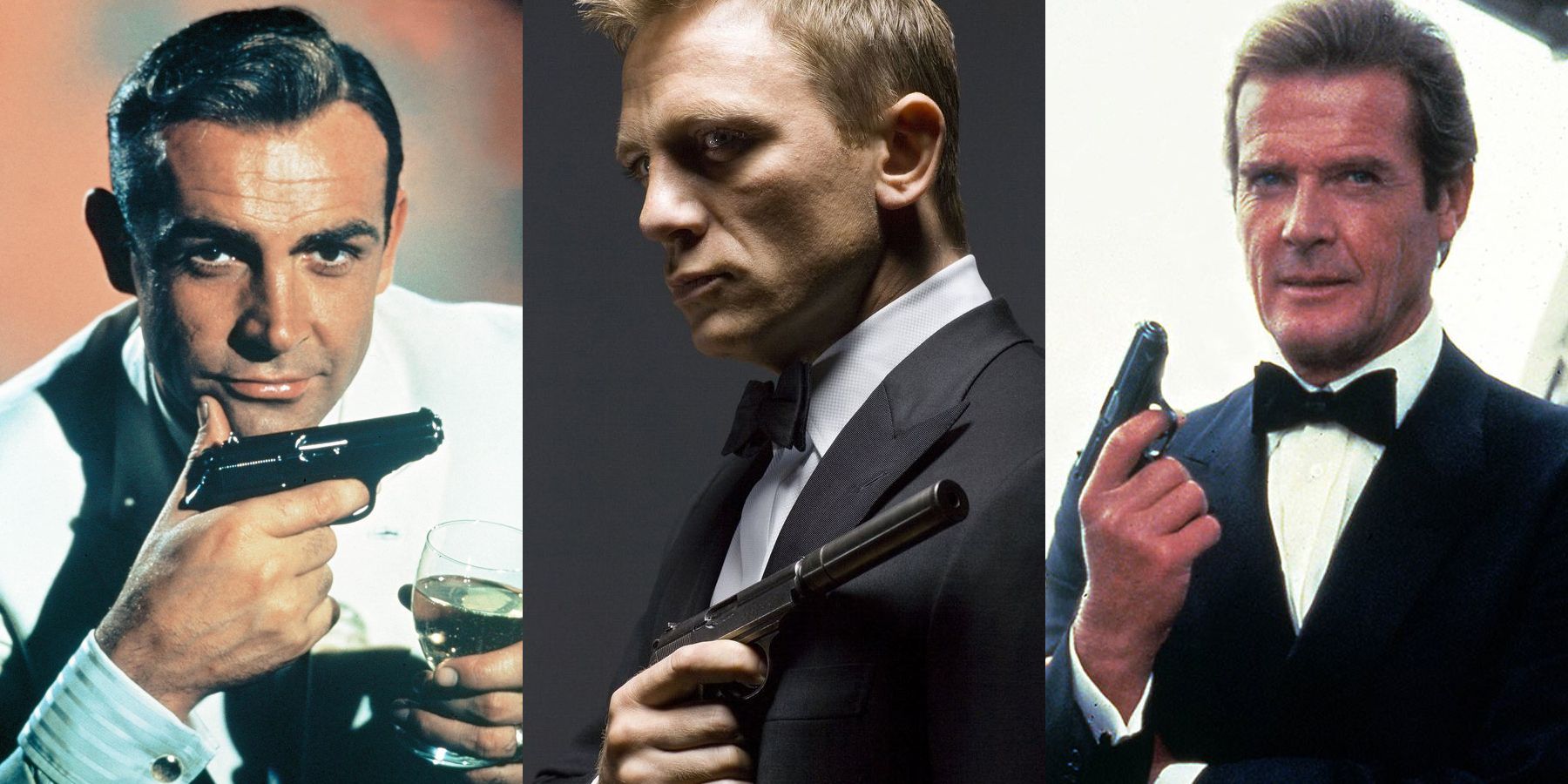 The Walther PPK is James Bond's signature weapon, but 007 doesn't use it in every film. Along with his choice of cocktail, the Vesper Martini ("shaken, not stirred"), his favorite automobile, the Aston Martin DB5, and his penchant for introducing himself by saying his last name before his full name, James Bond's gun is one of his world-famous touchstones. But throughout the franchise consisting of the original 20 Bond movies and the soon-to-be five films set in Daniel Craig's rebooted canon, Bond has occasionally varied his dangerous sidearm.
In the James Bond movies, the Walther PPK was introduced early in 1962's Dr. No. M (Bernard Lee) ordered a reluctant Agent 007 (Sean Connery) to switch from his Beretta, which he'd used for ten years, to the Walther, which is smaller but promised more stopping power. The explosion of the James Bond movies' global popularity cemented the Walther PPK - 007's gun - in pop culture history, and no matter which actor plays James Bond, the suave secret agent is almost always shown brandishing his Walther PPK in each movie's poster. And yet, over the years, Bond has occasionally eschewed the Walther and used other firearms for various reasons. There are films where the Walther was Bond's primary weapon, but he used other types of guns as the mission called for it (like when Connery's 007 killed a henchman with a spear gun in 1965's Thunderball and quipped, "I think he got the point").
Related: Why Casino Royale Didn't Happen In The Original 007 Timeline
Roger Moore was the first James Bond who sometimes ditched the Walther PPK in favor of other pistols. In Moore's debut Bond film, 1973's Live and Let Die, Bond used a Smith & Wesson .44 Magnum revolver. This, along with smoking cigars instead of cigarettes, was intended to distance Moore's new Bond from his predecessor Sean Connery. However, Moore's 007 brandished the Walther PPK in his second film, The Man With The Golden Gun, where he pitted his sidearm against the Golden Gun of the assassin Scaramanga (Christopher Lee). Remarkably, Bond is never seen using his gun in 1979's sci-fi fantasy Moonraker. In 1983's Octopussy, Walther requested 007 switched to the Walther P5 in order to promote the then-new weapon.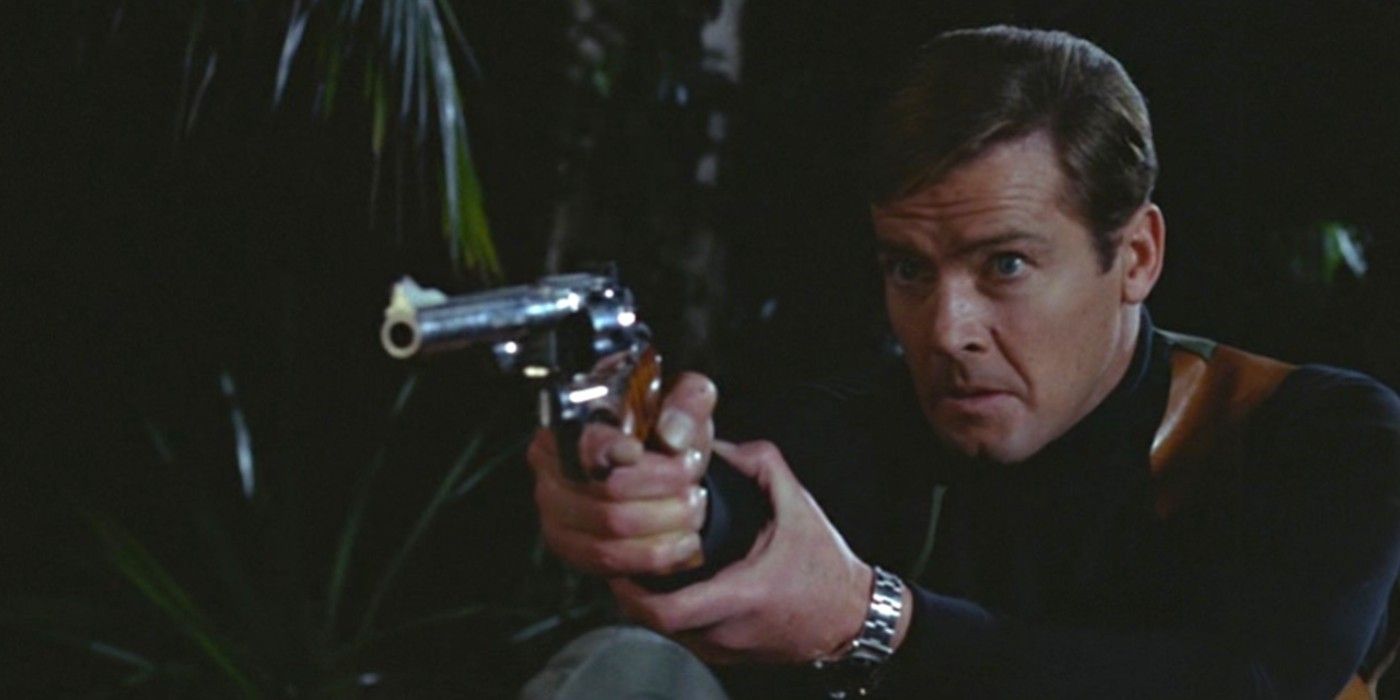 Timothy Dalton's two-film tenure as James Bond skewed the films more in line with the action movies of the 1980s, but by the time Pierce Brosnan inherited the role in 1995's G0ldenEye, 007 would regularly perform paramilitary and commando-style missions, complete with brandishing submachine guns (although Moore and George Lazenby used automatic rifles as the mission called for it as well). In 1997's Tomorrow Never Dies, Brosnan's Bond traded the PPK for the then-new Walther P99, which he used for the remainder of his films, 1999's The World Is Not Enough and 2002's Die Another Day.
When Daniel Craig rebooted the James Bond franchise with 2006's Casino Royale, he only used the Walther PPK in the pre-credits sequence that depicted how Bond earned his Double-0 status. For the rest of Casino Royale, 007 used the Walther P99, though he concluded the film by using a submachine gun, a Hechler & Koch UMP-9, to shoot the leg of Mr. White (Jesper Christensen). Finally, the Walther PPK returned in Craig's follow-up, 2008's Quantum of Solace. In 2012's Skyfall, Q (Ben Whishaw) gifted Bond with a variant Walther PPK/S, which had a grip coded to Bond's DNA so only he could use it. Ultimately, no matter how many dalliances James Bond has with other weapons, he inevitably gets his hands back on his trusted Walther PPK when exercising his license to kill.